E-commerce SEO has always been set apart. It can't be compared to SEO for non-commercial sites. That's why SEO specialists can barely find a common ground with UX experts.
SEO professionals tend to create more optimized content and get landing page clicks. UX specialists care about products mostly. Likely, both SEOs and UXs have one goal - conversions.
How to achieve this goal?
SEO will help eCommerce landing pages rank better and acquire new customers.
In this guide, you will find out five ways to improve eCommerce landing pages from an SEO standpoint.
Let's get the ball rolling!
Category Pages Types
There are two main types of category pages:
Category listing pages (these categories that list categories)

Product listing pages (these categories that list products)
You can see the first type of pages (CLP) across many popular eCommerce online shops. CLP tends to be placed higher up within the hierarchy of the site.
Here is an example of CLP on FOREVER21: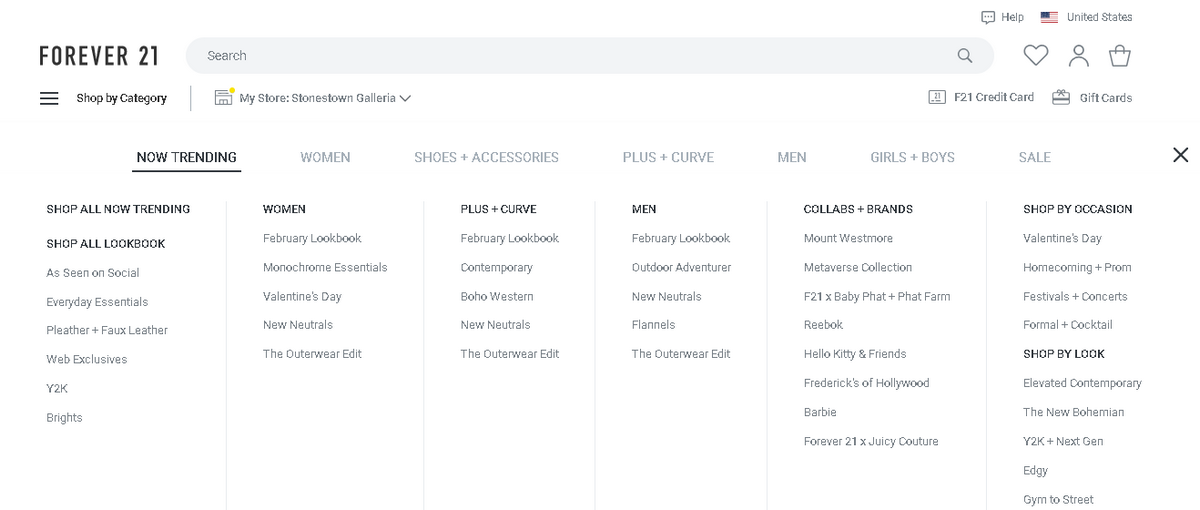 And here is an example of FOREVER21's PLP: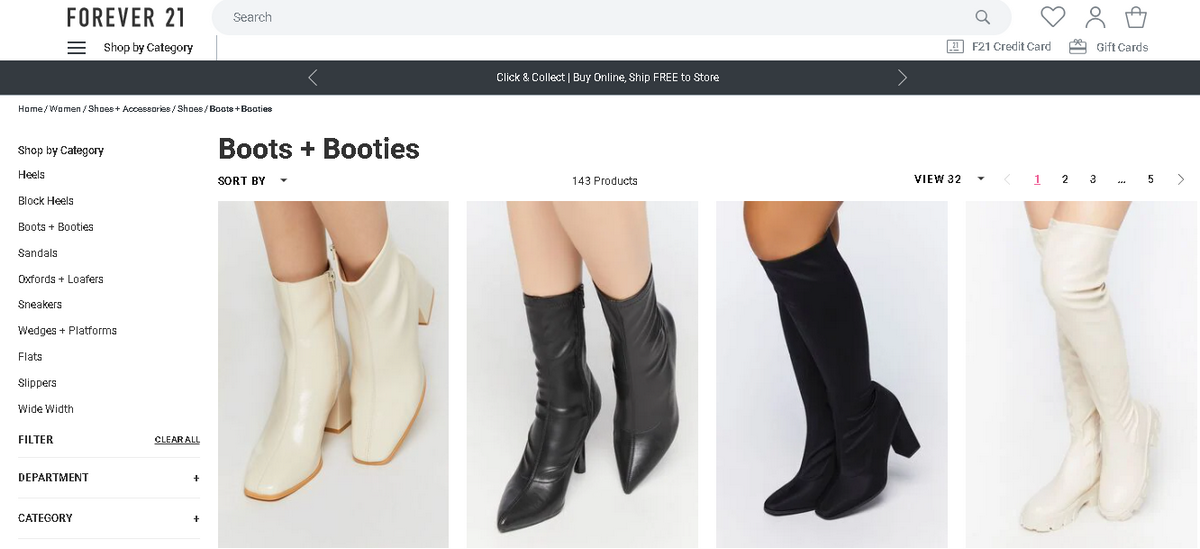 You might wonder - what is the difference between CLPs and PLPs?
The difference is the following:
CLP - they target general topics (e.g. women's clothing)
PLP - they target more specific requests (e.g. boots + booties)
Now, let's move to the tips that will help improve eCommerce landing pages.
Create useful content
Content is king. It is a well-known fact. The content aims to provide users with helpful information. That's why marketers use all possible online channels to spread it across the web. They even try to identify the best time when the information will be shown to the audience (a social media scheduler helps with that perfectly.)
In the world of eCommerce, content makes a direct impact on a customer's decision. So, it is important to provide customers with fresh and unique content that gives value. This is when AI marketing comes in handy. There are many AI-powered writing tools that can help you to write content that meets customers' needs.
However, don't delude yourself with the topics you believe would make sense to cover.
For instance, you have a category page "karate gi." There is no need to write a post that shares the history behind a karate gi. Instead, you should help potential customers with getting answers to the next questions:
What dress material has been used for karate gi?

What design of karate gi can be chosen?

etc.
You can cover this information briefly. Plus, the additional information can be added in the FAQ section down below.
This action provides users with more detailed information about the product. Besides, it helps Google understand the content on the page.
By the way, John Mueller has stated that:
When the ecommerce category pages don't have any other content at all, other than links to the products, then it's really hard for us to rank those pages

I'm not saying all of that text at the bottom of your page is bad, but maybe 90%, 95% of that text is unnecessary. But some amount of text is useful to have on a page so that we can understand what this page is about.

Our algorithms sometimes get confused when they have a list of products on top and essentially a giant article on the bottom when our algorithms have to figure out the intent of this page.
Here are main points regarding a content creation for category pages:
It should answer questions

Be short and sweet
Internal linking
Internal linking is important. Both for the category and product landing pages. It makes sense to use automated linking and manual one.
If you are an owner of a large eCommerce site without automation, it will be difficult to proceed with linking.
Especially, if you used localization services to embrace more international markets.
Why?
Because each area splits into cities. For example, a US market covers regions across the US. These regions consist of cities. Finally, each city suggests categories of the product your potential customers may look for.
Likely, automation helps identify a "parent/child" connection between categories. That makes the process of linking easier.
The benefits of automated linking are:
Avoid orphan categories

By creating a new subcategory and setting a parent category - the last one will link to the subcategory automatically

Internal links help with indicating a site structure

Google understands the site structure better
Why do you need to use manual linking?
Manual linking helps you put pages with a high level of search opportunity in the first place. Thus, both users and crawlers will be able to stumble upon them in a blink of an eye.
Work on creating long-tail categories
You can improve category pages by creating long-tail variations of them.
How to do this?
First and foremost, you should use one of the SEO tools that can help conduct keyword research. In this case, Keywords Explorer from Ahrefs will work.
For example, you have a broad category "fashion jewelry":

You need to click the "Matching terms" report and review the "Parent topics" column: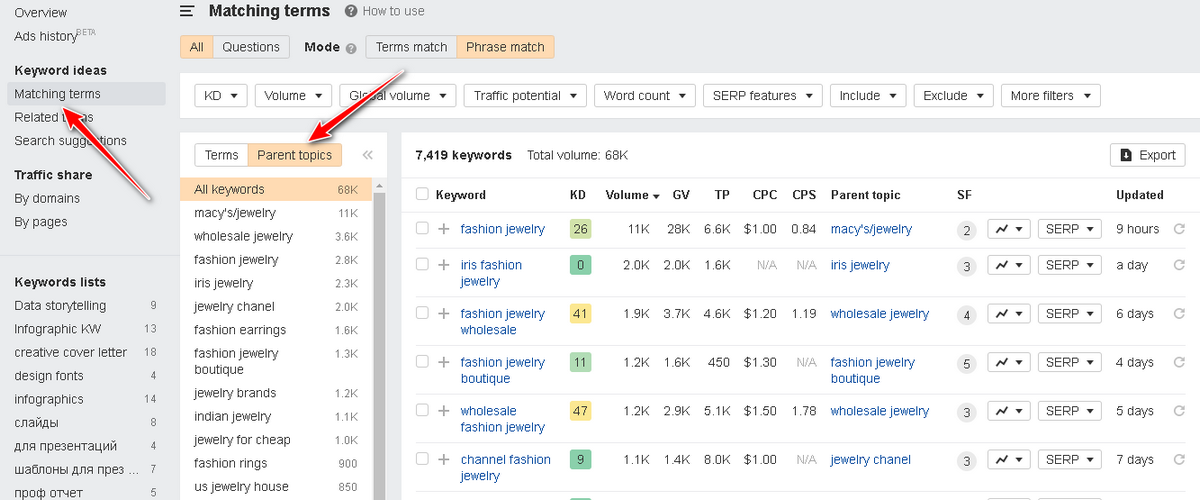 As you can see, the tool suggests tons of long-tail variations with the search volume numbers. Go ahead and choose the most promising opportunities to apply them for categories.
Take care of URL structure
The best URL format is the one you won't need to change. Besides, you can never know how long it will take for Google to notice the changes in the URL.
The reason to change URLs might be rebranding or some other fundamental technical aspects, like changing eCommerce hosting.
URLs may be structured based on parent/child relationships between category pages:
www.domain.com/collections/

www.domain.com/collections/neckless

www.domain.com/collections/neckless/kundan-necklace
As you can see, the URLs of the category pages are simple.
Include links to detailed guides
Category pages lack content that would be the final nudge for users in making their purchasing decision. However, according to pieces of advice from John Mueller - the information on CLPs should be short and sweet.
What is the solution?
Add links to the detailed guides that would cover the information regarding certain products.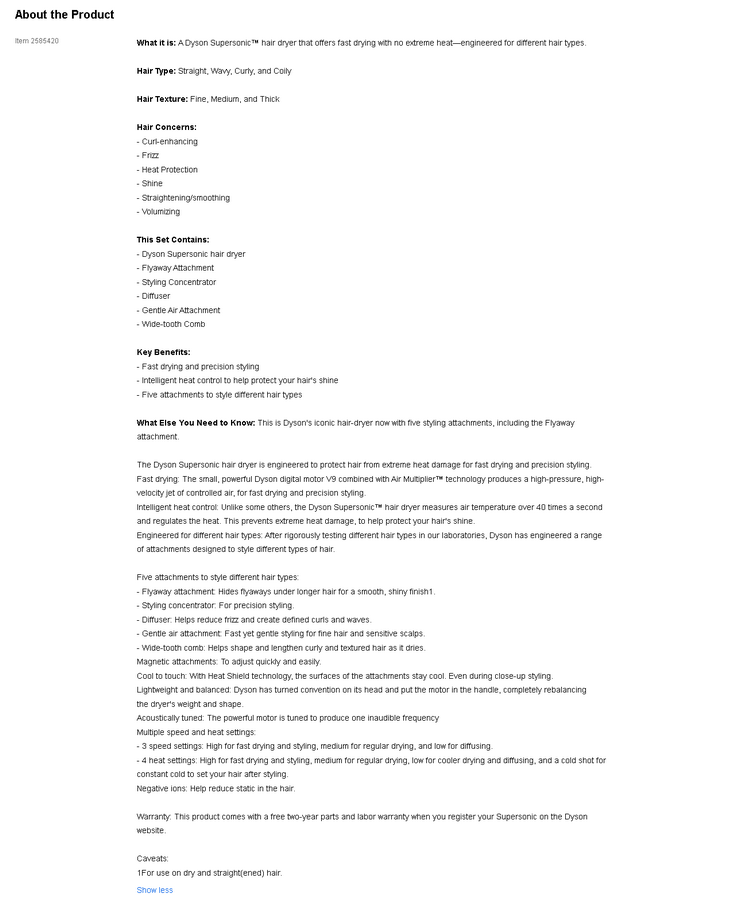 To Sum Up
SEO and eCommerce can co-exist. SEO can increase the number of sales for sure. Nevertheless, there are some technical aspects you should consider.
SEO for eCommerce landing pages has different approaches to apply. You have just got familiar with five basic ones. Likely, the suggested ways of improving eCommerce landing pages work like a charm.
Go ahead and try to apply them by yourself!