You're no doubt familiar with the effectiveness of email marketing. Consumers are comfortable with and accustomed to its unobtrusive, opt-in format, and marketers love the massive potential ROI that this affordable and versatile channel can bring.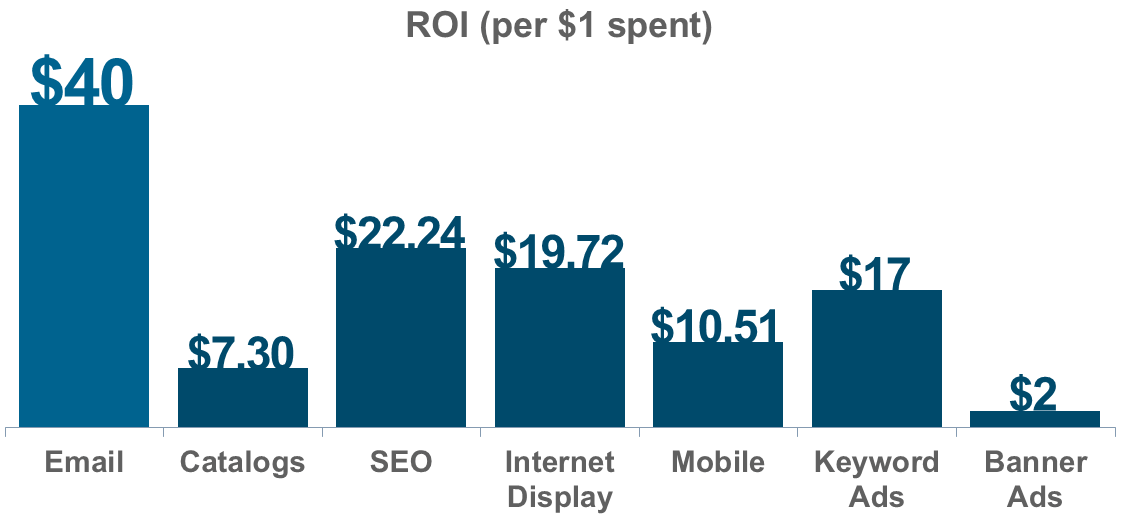 However, email marketing only works if you've got an engaged audience, and for that, you need a properly built and maintained email list.
But how to create an email list that can deliver a personalized experience for your subscribers and the best results for your business?
In this article, we're going to look at some tried-and-tested tactics that can help you to capture the right kind of subscribers for your list while continuing to nurture your audience engagement as your business grows.
But first, let's look a little closer at what an email list actually is.
What Is An Email List?
Quite simply, an email list is a collection of people who have agreed to receive your promotions and campaigns.
They could be followers of your blog, customers who have previously purchased a product from you, visitors to your website who liked what they saw, or even people who attended one of your events. There are many ways that subscribers come to sign up to your list, and they are all theoretically interested in what you and your business have to offer.
Building and managing an email list is one of the most important activities in your entire marketing strategy, simply because of the potential that it holds. Get it right, and you'll have a thriving audience of active and engaged subscribers, who are only too happy to read your emails and click through to your latest deals and products.
On the flip side, if you get it wrong your carefully crafted campaigns will end up being sent to stale and non-existent addresses, stay forever unopened and instantly deleted by disinterested subscribers, or even worse, marked as junk and sent straight to the spam folder!
Build Your Email List in 2 Simple Steps
Luckily, creating a high-quality list doesn't take a great deal of technical wizardry or specific know-how.
With the right tools, a little common sense, and some good old-fashioned patience and persistence, you can organically grow your email list from scratch without resorting to shady tactics like buying a list (never do this!) or sending emails without permission.
Begin by implementing the following 2 steps and watch your subscriber list grow:
Step 1: Make It Easy To Subscribe
You're essentially asking people to give up their details voluntarily, so it's important to make the process as easy and painless as possible. Let's check out a few handy and effective places to encourage people to sign up to your email list:
Your Website
Visitors head to your website for all kinds of reasons, but they are all showing an interest in your business. You can capitalize on this interest by placing subscribe forms in visible and easily clickable places, such as:
Your blog: readers of your blog are naturally more engaged with your brand—they have shown their interest by taking the time to read what you have to say. Consider placing a pop-up subscribe form that appears after a certain amount of time on your blog page, this way you can allow people to read without intrusion and ensure that you are capturing those readers who have confirmed their engagement by reading to the end.
Checkout: Interest in your brand is at its peak when someone is buying from you, so this is your best chance to turn a one-off buyer into a loyal customer. Simply add an easy checkbox with something like "receive special offers and the latest news" to your checkout form - people are already filling in their details anyway, so this makes an easy shortcut to signing up.
"Contact us" form: Another handy shortcut to signups lies in your "contact us" form. A visitor is showing interest by reaching out to you and is already entering their contact details, so you can respond to their query. Add a small tick box to the bottom of your contact form and encourage an easy and convenient sign-up opportunity.
Social Media
With their widespread use and easy sharing, social media platforms are incredibly useful for attracting new audiences.
However, while social media channels should definitely be a part of your marketing strategy, it has been proven time and time again that email marketing offers a far better return on investment—social media advertising costs much more and people are simply less inclined to engage with it.
So rather than advertise directly on your social media channels, consider running sign-up campaigns to convert your social media followers to email subscribers.
Leave a persuasive CTA and easy link to your sign-up forms on all of your social media posts, and promote the benefits of being on your list. You can offer special deals for social media sign-ups, or promise unique, valuable content that only email subscribers can access.
The idea is to take advantage of social media's popularity and reach to attract people to your more reliable and lucrative email list. Whether it's through consistent messaging on your social posts or special social media Linkedin advertising for lead generation, adding to your email list should be a primary goal of your social media marketing strategy.
Your Emails
You probably send hundreds or even thousands of emails every month to people that haven't yet subscribed to your list. Order and shipping confirmation emails will make up a large percentage of these, as well as people contacting you with questions and any other requests. Using these emails you can build your subscriber list and send them automated email campaigns.
Transactional emails have incredibly high engagement rates, and you can take advantage of this by encouraging a sign-up to your list.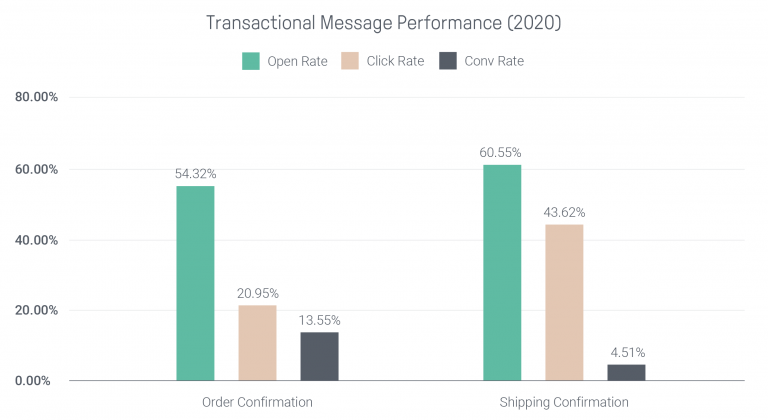 Always add a clear and prominent CTA in your emails, directing readers to a sign-up form or landing page. Perhaps you could sweeten the deal with special content or a discount on the next purchase if the customer signs up—always try to make the process as rewarding and as easy as possible.
Step 2: Offer Lead Magnets
Lead magnets are specific incentives that you can offer to encourage people to sign up. Some people will require an extra push to give up their details voluntarily, so a valuable and carefully thought-out incentive can make all the difference when building your list from scratch.
But what kind of lead generation strategies are the most effective?
The answer lies in knowing your target audience and understanding what is valuable and desirable to them.
Lead magnets are most effective when they are directly related to your brand or industry. For example, if you sell fishing products, you would offer something useful for fishing enthusiasts such as a fishing map of the local area, or a guide to the best bait.
The trick is to find a balance between what you can afford to create or give away, and what offers the greatest reward for your new subscribers.
For example, puzzle retailer Jiggy offers 10% off the first order, as well as the chance of winning a free puzzle.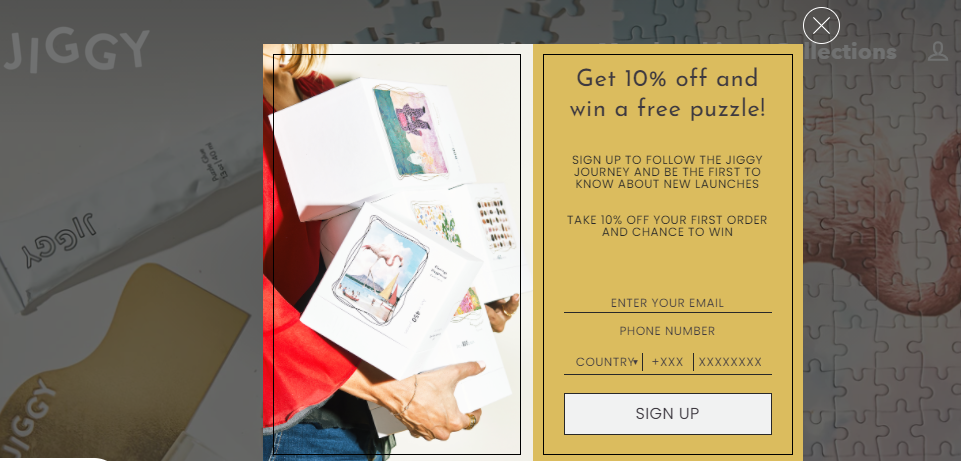 Let's take a look at some more good examples of lead magnets:
Amazing Content
Instantly accessible, relevant, and exclusive content makes for the perfect lead magnet, particularly if it solves a particular pain point that your potential subscriber is experiencing.
For example, you might go to popular query websites like Quora and Reddit to find common questions related to your product or service. Answer those questions with gated content like whitepapers, how-to guides, ebooks, or listicles, which people can only access by signing up to your list. Not only does this populate your list with highly engaged and interested subscribers (the kind who are most likely to eventually make a purchase), but it boosts your brand reputation as one who is an expert in your particular field.
Alternatively, you can offer your content regularly and freely with the expectation that interested readers will sign up for updates. If your content is compelling enough, people will look forward to your next blog post and will happily subscribe to your list to receive it directly in their inboxes each week.
Exclusive Offers Or Events
People like to feel part of something exclusive, so treat your email subscribers like VIPs wherever you can.
Holding free physical or online events is a great way to do this—you can invite industry experts or influencers to speak at your event and ask for a sign-up to attend. Other valuable events include free courses and tutorials, where you can show participants how to get the most out of your product or service.
You can create exclusivity for your subscribers by giving them special sneak previews or early-bird deals—shoppers appreciate the chance to be always at the front of the queue for the latest hot releases.
Discounts Or Gifts
A simple discount is always welcome and makes an extremely attractive incentive for potential subscribers.
Think about it - people are already showing an interest in your brand if they are perusing your website, and may need a nudge to commit to a purchase. A small discount or another offer (free shipping, for example) can be the catalyst needed to not only sign up to your list but to make a purchase too. Not bad returns for such a small investment!
Finally, you could also consider offering relevant gifts in return for a sign-up. A free sample of one of your most popular products is the obvious choice, giving new subscribers an idea of the kind of quality they can expect from your brand and wetting their appetite for more.
Useful Tools for List Building
Now you have an idea of some tactics for encouraging people to sign up to your list, let's see how you can bring it all together. It's important to find an email marketing platform that's designed specifically with the needs of ecommerce retailers in mind and provides you with the right tools for building a thriving email list.
Standard Sign-up Forms
These are the classic sign-up boxes that you'll see on most ecommerce websites. You can place these forms throughout your site with a simple text like "Sign up to our Newsletter" or "Become a Subscriber Today."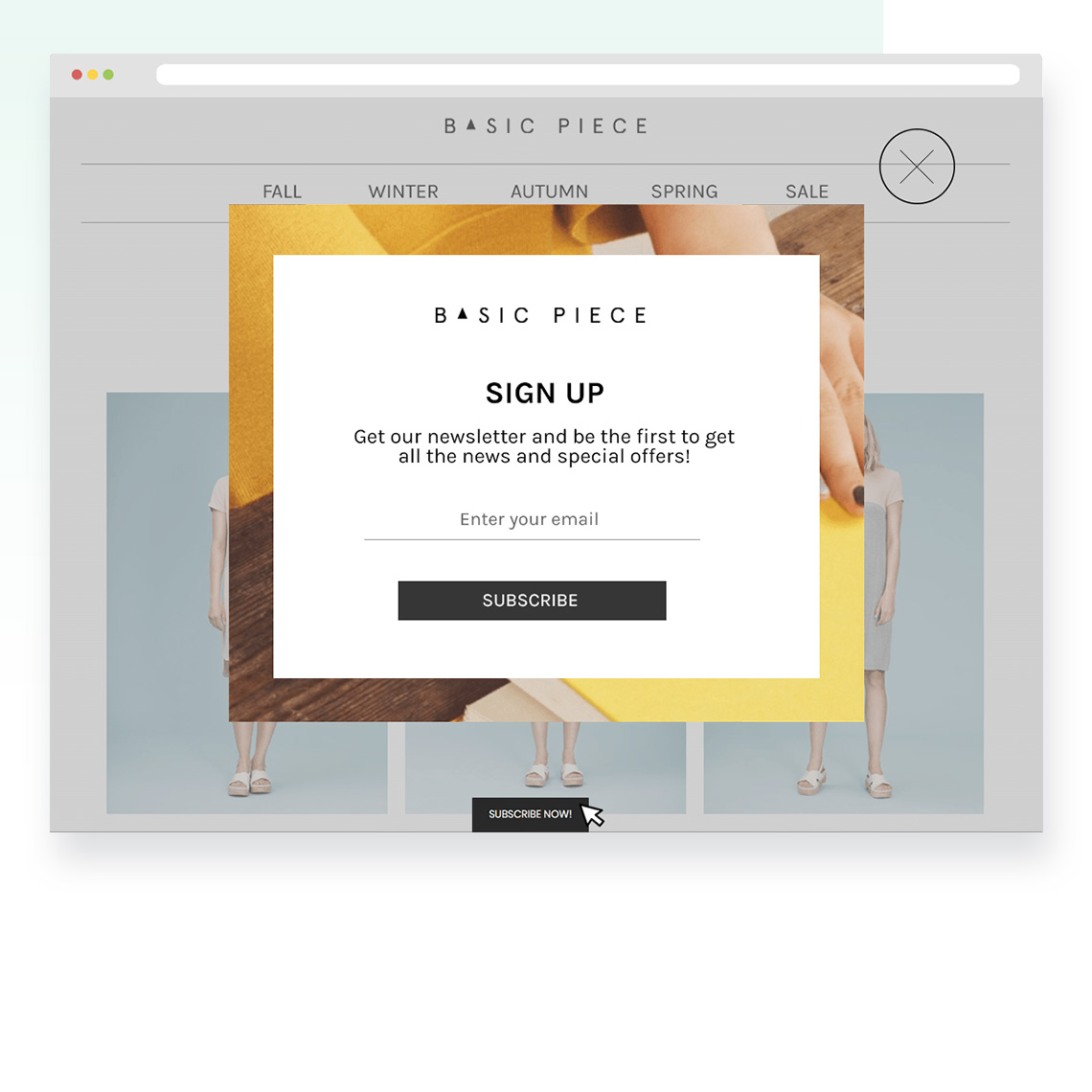 The standard sign-up form gives you the flexibility to add as many fields as you choose, so you can capture as much information as possible. Because a good list contains more than just an email address!
The more information you have about your subscribers, the better you can segment your list and the more personalized your messaging will be. At the very least, you should consider adding a field for phone numbers, so you can supplement your emails with SMS marketing.
Other field options include things like gender, age, location, preferences, and more. However, be careful not to make your form too complicated and time-consuming. We want to make signing up as easy as possible, remember? Find a balance between getting the information that you need and making the sign-up process as simple as possible.
Pop-ups
Static sign-up forms are great and should always be used, but the sad truth is that they succeed in capturing a subscriber to your list at rates of just 1.28%. To boost this number, you can explore more dynamic and effective forms—the first of which is the pop-up.
Pop-ups have gained a reputation over the years for being intrusive and annoying. However, if they are carefully timed and used in just the right situations, they can effectively capture subscribers. The exit-intent pop-up is a great example of this, being timed to appear only when the visitor has finished their business and is ready to leave the site.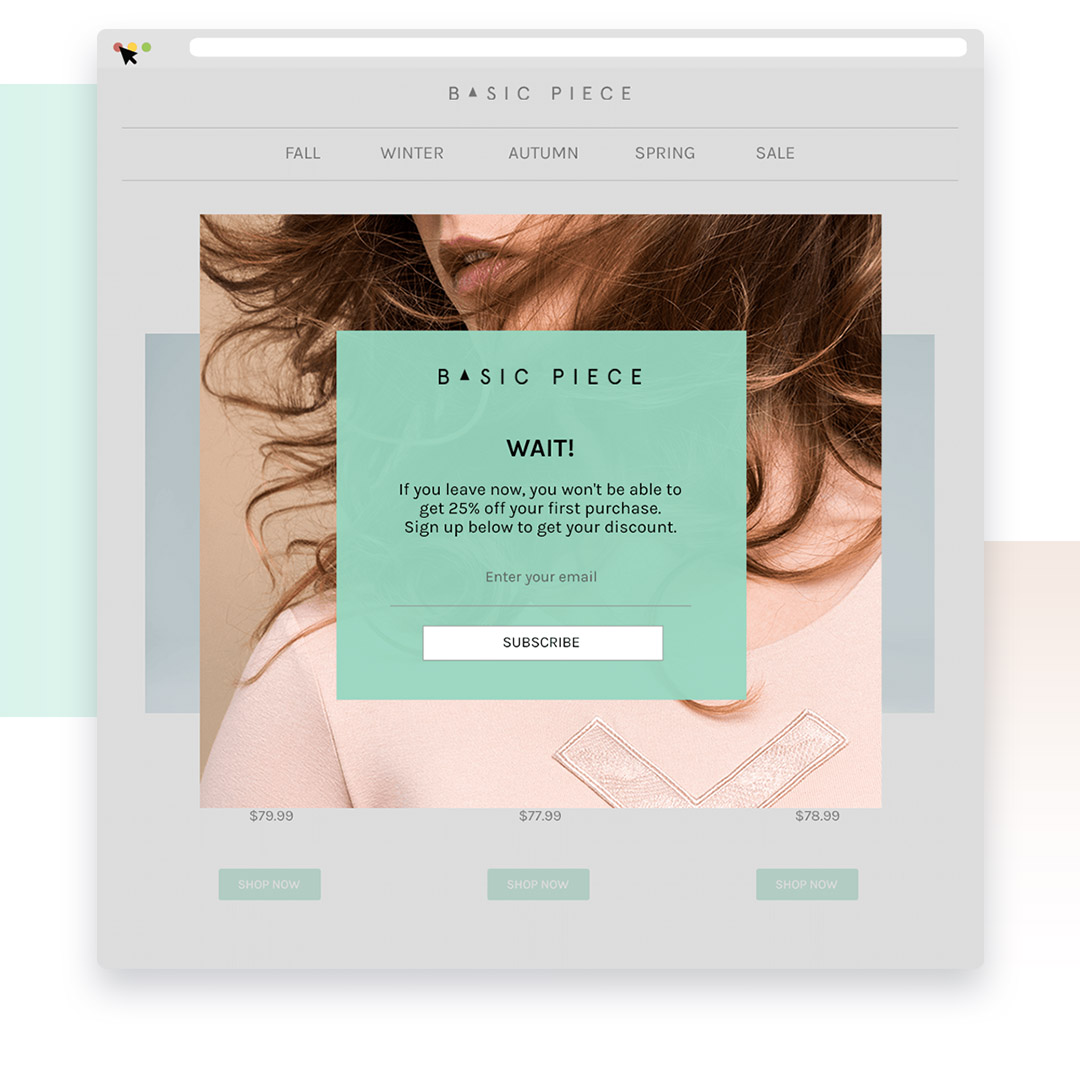 With conversion rates rising to 4.22%, it is clear that pop-ups are a very useful addition to your blog, store, or other pages when looking to collect subscribers.
Interactive Sign-up Forms
To offer a fun and memorable experience, consider interactive sign-up forms like the Wheel of Fortune.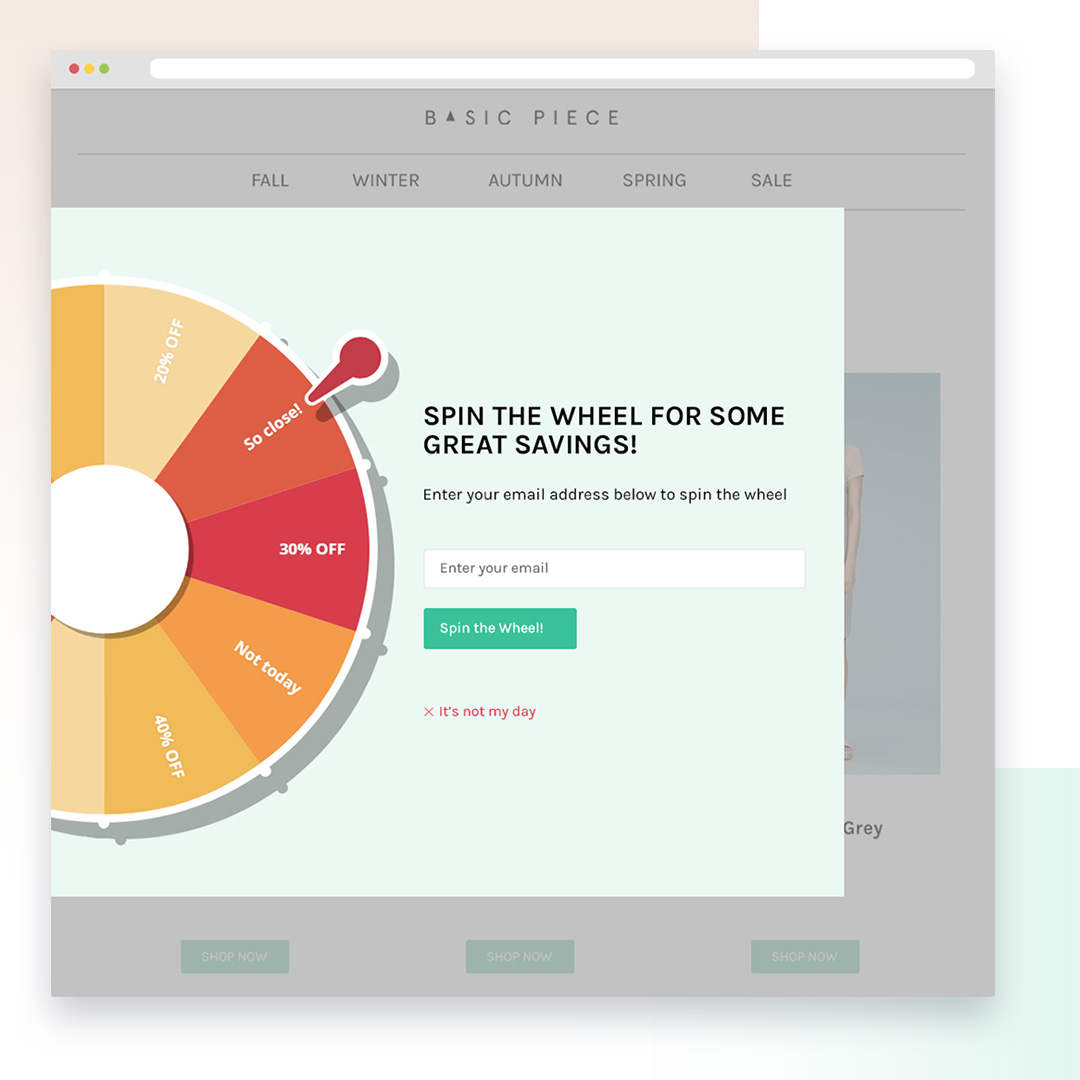 These forms bring an element of gamification into the process by offering visitors a chance to spin the wheel and win attractive incentives. This increase in engagement is reflected in excellent conversion rates of 12.74%.
Simply add your incentives to the wheel (percentage discounts, free shipping, gifts, etc.) and add your desired information fields (email, phone number, etc.). As people are naturally inclined to want to try their luck, you could perhaps afford to add a couple of extra fields here and maximize your collection of information.
Landing Pages
Dedicated landing pages are useful for campaigns that aim to sign up as many subscribers as possible.
The concept is simple—you create an attractive and easy-to-navigate page that's designed specifically for capturing subscribers, and link to this page from things like your social media feeds, emails, or ads.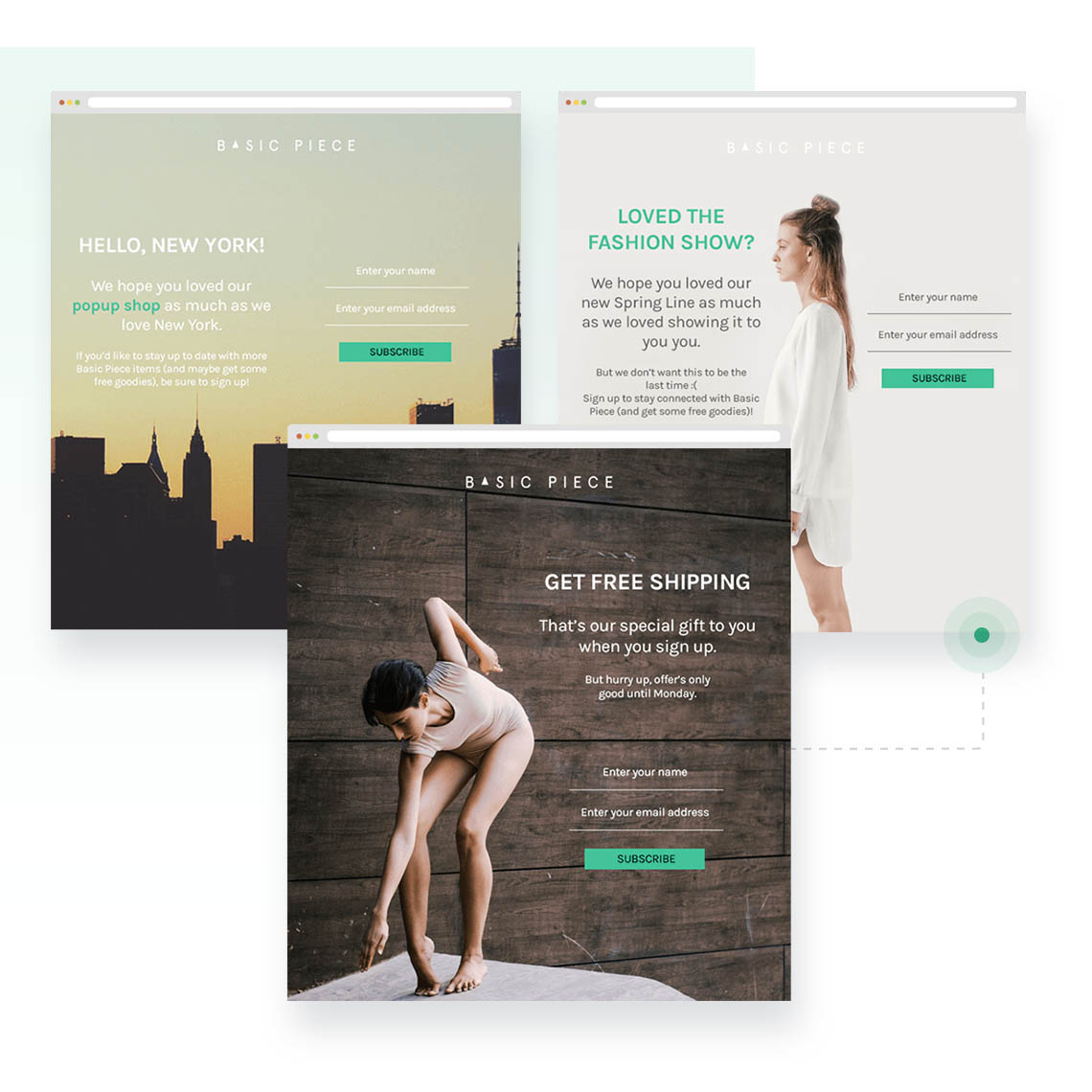 Creating your landing pages based on a particular campaign or incentive (free shipping in exchange for signing up, for example), keeps things focused and the desired outcome clear. The high conversion rates reflect this—visitors who land on your page sign up an impressive 24.82% of the time.
Wrap Up
With email as a marketing channel showing no signs of slowing down (in fact, conversion rates for email marketing campaigns nearly doubled in 2020), email has firmly consolidated its role as the go-to channel for online shopping.
Knowing how to build and nurture a thriving email list from scratch is truly one of the most valuable skills a marketer can have—a well-built email list has the potential to become your primary source of revenue. Growing and maintaining your list is a never-ending task that should be kept at the forefront of your marketing strategy.
Luckily, it's not an overly complicated task.
Just remember to take full advantage of the tools and features that your email marketing platform offers (a good platform will offer many), follow the 2 simple steps outlined in this article, and work at it patiently and consistently.
Give it a little time, and soon you'll have a thriving and lucrative list of engaged subscribers eagerly awaiting your updates and promotions!