An eCommerce business doesn't happen overnight. You will have to compete with market leaders prevailing in the market over a long period of time. Nevertheless, your task is to push your business further.
Of course, you will have to do lots of business-related things. Invest tons of money and time. However, you can't put your arms around everything.
Hence, you need to figure out those factors that matter the most.
What are they?
In this post, you will get familiar with three factors that play a crucial role in your eCommerce business success.
Let's cut to the chase!
The Most Important Tasks to Consider
If you want to start a successful eCommerce business, you won't be able to figure it out right off the bat. You will need to run in-depth research.
For example, a successful eCommerce business has a powerful social media marketing strategy. It helps drive a few million followers on Instagram. But it doesn't mean that if you have the same number of followers, you will achieve the same success.
Nevertheless, eCommerce business practitioners have already identified a few pillar factors you should consider. These three factors can affect your eCommerce business success drastically.
Let's review them:
Low customer acquisition cost

High repurchase rate

Healthy margins
These factors may look a bit simplified at first glance. However, they have a complicated meaning for your eCommerce business success.
Therefore, let's review these three factors more precisely.
Low customer acquisition cost
Most eCommerce business owners dream about acquiring dozens of profitable customers for cheap. But it all depends on your preferred margin, lifetime value, and your main competitors.
Besides, the biggest challenge in this game is to get new customers.
How to do this?
You can invest your money into making advertising, design and plan social media strategies, interact with potential customers etc. But all these ways require spending money. In other words - each new customer has a cost.
What's more important, if you care for business success, you should think about implementing an actionable marketing strategy. Or hire a team of marketing experts who would lead your business ahead.
This factor has a leading force that includes two elements - brand and marketing. Now, let's review them in detail.
Branding is the most straightforward way to stand out and lower your acquisition cost. But the first thing you should do is ask the following questions yourself.
Do people know about your brand?

Does your eCommerce business differ from your competitors?

Is there any specific reason why a potential customer should check your online store?
Can you answer these questions?
Practice shows that business owners can hardly explain why people should buy from them but not from their competitors. It is not because they lack information or knowledge. It is because the reason is hidden in the roots of your eCommerce business.
What does it mean?
Try to recollect what was the reason to create your store. For example, there are cases when business owners take charity as a driving force. To put it simply, you encourage people to buy from you. And their purchase helps people with a donation to fight against cancer.
However, don't delude yourself. Charity won't be the driving force that leads to the success of your eCommerce business.
On the one hand, brand building seems quite vague. On the other hand, some ways can help you measure it effectively. For example, branded search traffic works as an indicator of how well your brand awareness has increased over time.
One more trustful indicator is brand mentions. The more mentions your brand gets, the more chances to expand the brand itself. However, brand mentions are not equal. Nevertheless, if you have consistent growth in this area, you will reach out to new potential customers.
You might wonder how to explore the mentions of your brand without any fuzz. You can do this with the help of the Content Explorer tool from Ahrefs.
What should you do?
Type your brand name first. Then review those pieces of content where it has been mentioned. To get the most up-to-date results, you can filter down by date.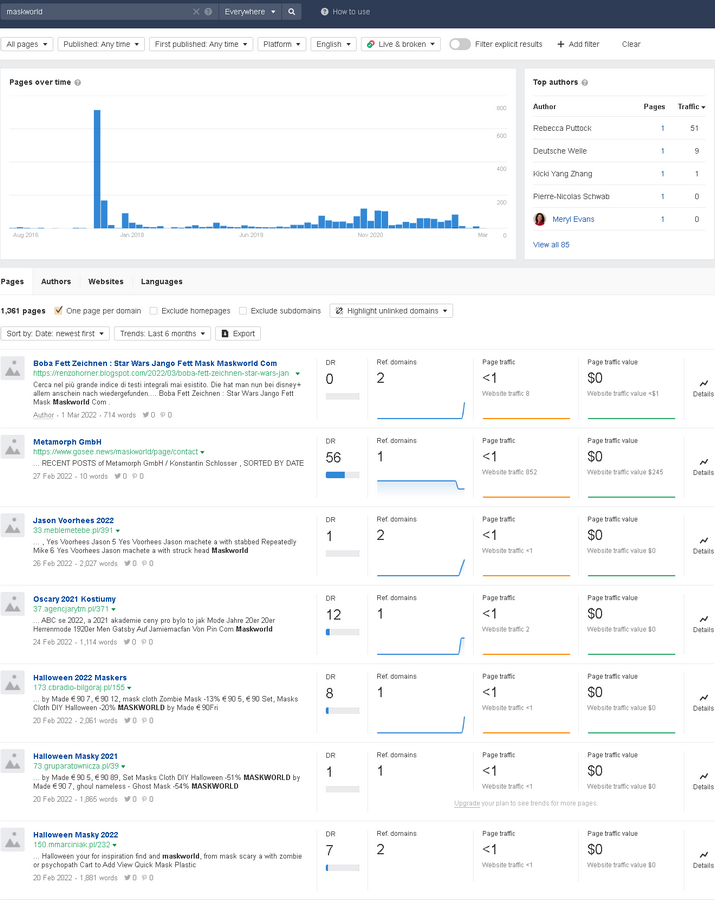 Plus, for those who want to get the latest updates on brand mentions, you can use the Alerts tool. The only thing you will have to do is to point out the search inquiries you want to track.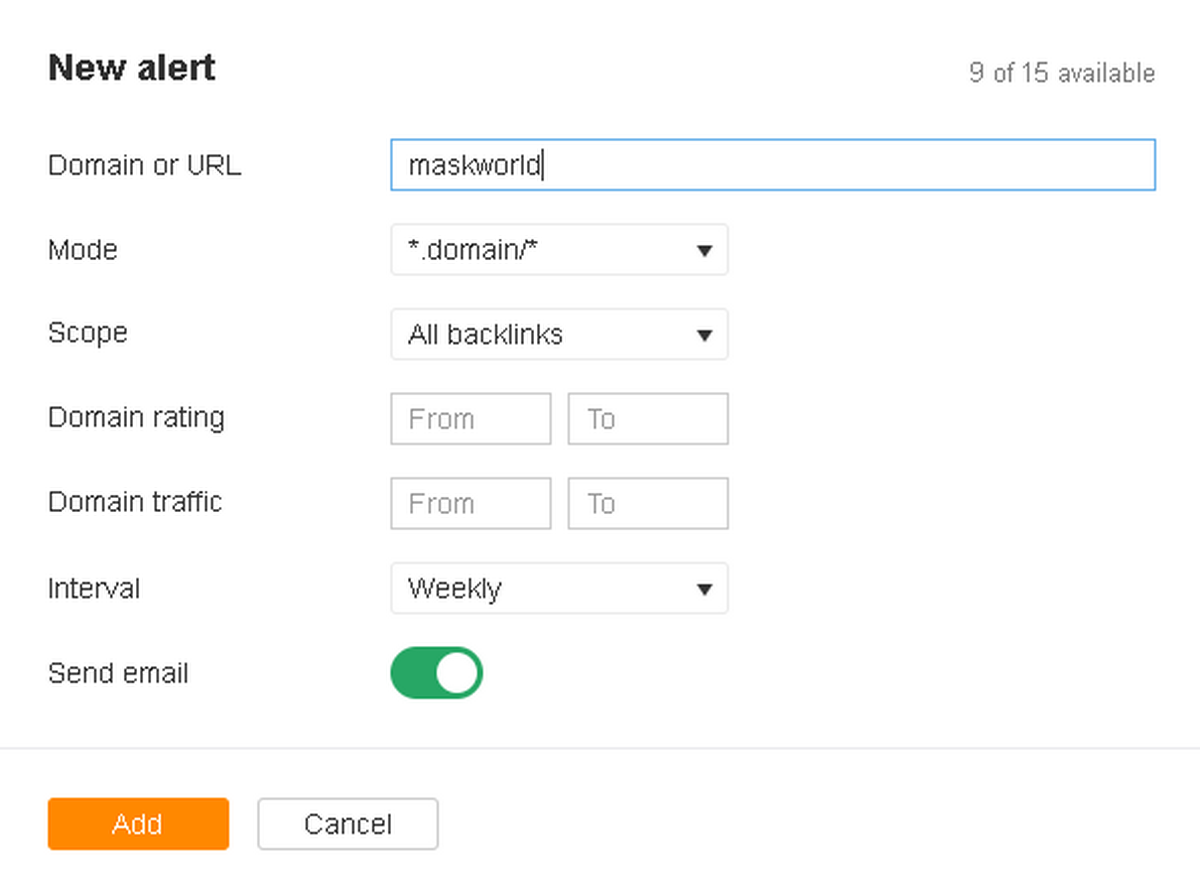 If you want to create a powerful brand, you should clearly understand who to target. And where to find these people. This should be a starting point for your marketing.
Keep in mind that you need to set your budget tight and invest your money wisely. However, the best option here is to find ways that would cost no money but increase the number of sales.
Are there any of these marketing tactics on the radar?
You can concentrate on cheap marketing activities like email and retargeting. But remember that they are low scale and the total volume of these activities will be limited.

Don't go with the flow
If you can find marketing channels that your competitors have no idea about, don't hesitate to use them. It will help you be the only player on the field and dominate.
Unfortunately, the truth is that it is pretty hard to find such a unique channel. Instead, find a new approach to work with the existing channels.
For example, lots of eCommerce business professionals use eCommerce SEO strategies in practice. They focus on basic tactics like - keyword research, link building, content creation, outreach, and so on. Whereas, it won't be enough to succeed.
How to turn the table in this case?
The answer to this question is simple - don't copy these tactics but replicate the principles. Plus, add some sort of creativity.
For instance, there will be a handful of people who would buy a jacket with the fake mud from you. Nevertheless, this unique product will attract people's eyes for sure. Eventually, people might start exploring similar unique apparel that your shop can offer.
You realize that having a perfect product doesn't mean that your sales will skyrocket. That's why your goal is to find the right audience to reach out to and offer the product.
Don't run outreach campaigns randomly. Instead, analyze the backlinks that products similar to yours have built. One of the ways to do this is by analyzing your competitors' backlink profiles.
How to do this?
Go to the Site Explorer tool and check the "Backlinks" report of the competitors.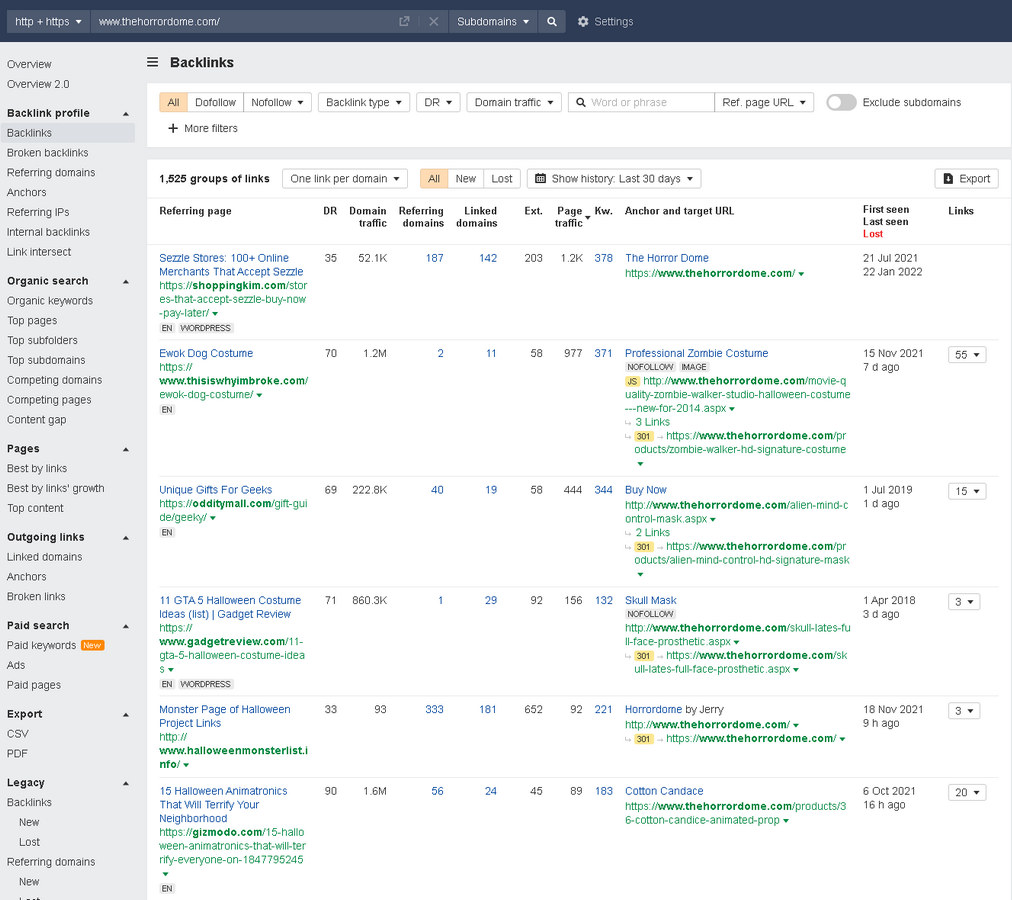 Skim through the report and figure out what sites link back to the products similar to yours. Afterwards, get your outreach campaign ready to go. Don't forget to work on creating a personalized email template.
By the way, if you post your product items across social media channels, you know how it is important to create a posting schedule. It is more effective and time-saving. Especially for those goods that people need to see with their eyes. Hence, you schedule Instagram posts and post pints on Pinterest.
Outreach is not an exception to the rule. You should create an outreach schedule to make sure the messages are delivered to people at the right time.
High repurchase rate
Did you know that the best eCommerce companies generate more than half of their revenue with the help of repeat purchases?
Besides, it increases the lifetime value for your customers drastically. While customer loyalty is something that is important for whatever business you run.
You should understand that customer loyalty is a collective term that represents the following elements - customer experience, product selection, pricing, brand, and marketing.
Yes, marketing is the last on the list. And this is for a good reason. It is because the most straightforward approach to increase customer loyalty is to get more in front of your existing customers.
Thus, if you want to get positive results with the help of automated email campaigns, you should know one thing. Your campaign is doomed to failure if your customer had a poor experience with the first purchase.
It is strictly important to work on improving customer experience. It will help you increase the number of customer reviews of the products.
How to do this in the best way?
First and foremost, think about what your potential customers see when they land on your site. To help you out, ask yourself a set of questions:
Is it hard to find a specific product?

Is it enjoyable to navigate product sections?

Is your website fast?

Does it make any difficulties to find contact details or shipping costs?
Collect customers' feedback and analyze the information. Make the improvements.
Healthy margins
To make your eCommerce business move forward, you need a healthy gross margin.
Why is it important?
Healthy margins give you an opportunity to invest and it offers more possibilities to acquire new customers.
Any margin consists of two elements - revenue and cost. And while you are already aware of other costs (shipping cost, product cost, etc.), you don't have more detailed information about revenue yet.
Keep on reading and you'll find out.
Sell higher priced products
If you believe that it would be much harder to sell a $3,000 laptop online than a $20 t-shirt, you are wrong.
Surprised?
The thing is that if your margin is lower, the final total profit per order will be higher on the first product.
Cross-selling is the process of selling complementary products like a $10 juice concentrate packaging for a $1000 cocktail machine.
Upselling is when you try to sell a cheap product for a higher price. For example, you sell t-shirts for $5.99 per item. However, a customer decided to purchase 20 t-shirts. You sell these 20 t-shirts for $80, where the price per unit is $4. The price is lower but you could earn more money selling these 20 t-shirts at once.
To Sum Up
This blog post is a wonderful guide for those eCommerce businesses who have just decided to launch their online store. And low-cost customer acquisition strategies will help you for sure.
When your customer base starts to grow, you should focus on customer retention work.
Finally, dive into the cost and revenue to figure out how to optimize these elements and succeed in your eCommerce business.
If you think this post lacks some information, don't hesitate to share your thoughts in the comments.