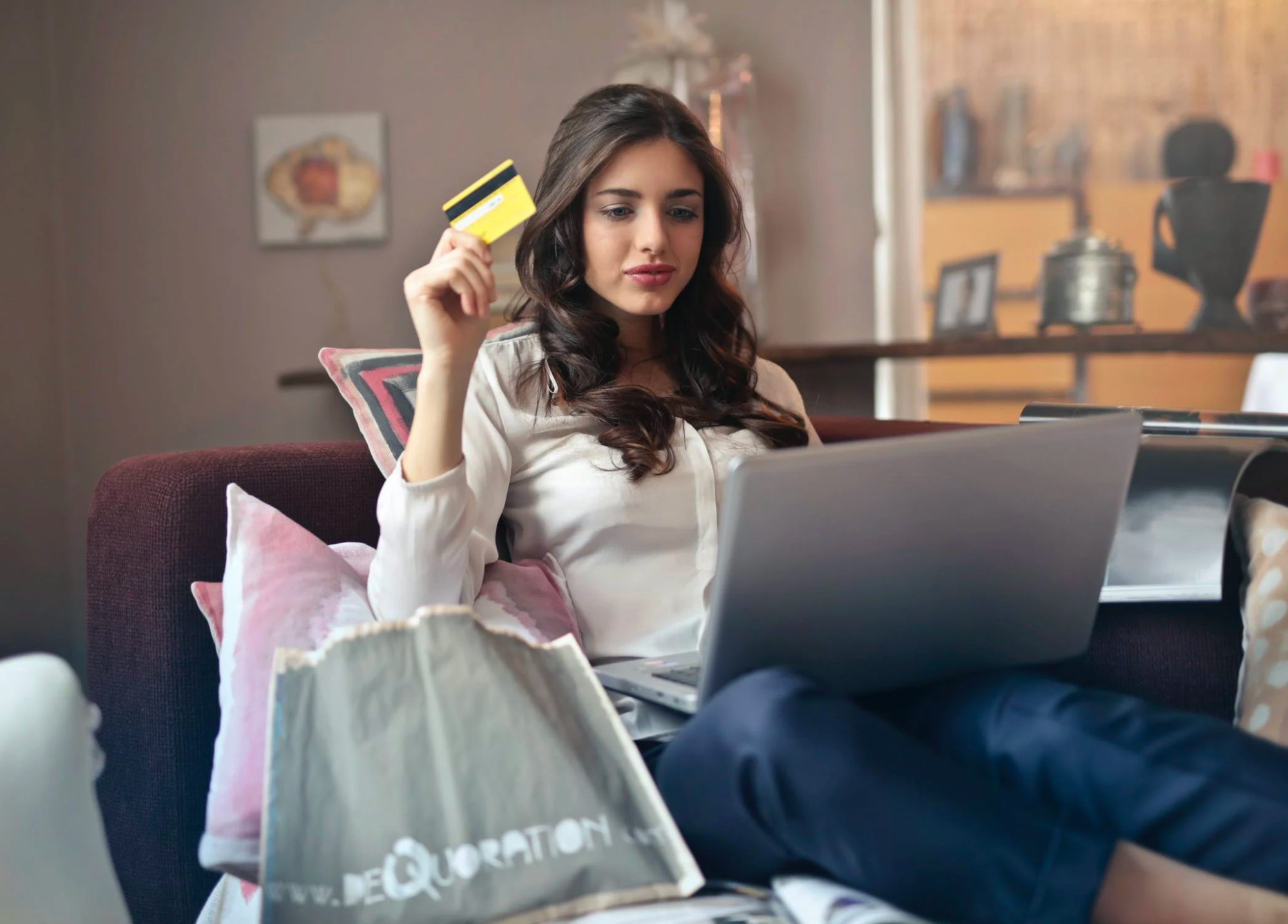 A lot of business owners make the mistake of always chasing new customers, but encouraging repeat purchases from people who have already bought from you can be a lot more fruitful! In fact, attracting new customers can cost five times as much as retaining existing customers (OutboundEngine).
In this article, we're going to outline how you can encourage customer loyalty and bag repeat purchases for your eCommerce website. Let's get started.
Provide customers with all the information they need to make informed purchases
If you want customers to come back and shop with you again, you need to ensure that they make purchases they're happy with. You can ensure this by providing all of the information they will need to make informed purchasing decisions. As a result, they'll be more likely to be happy with their purchases, increasing your repeat conversion rate.
Here are a few different ways that you can ensure you're helping your customers make informed purchases:
Publish case studies that outline the results of your past work

Provide product demonstrations or videos

Create buying guides and comparison pieces
Let's take a look at a few examples of businesses that do a great job of helping their customers make informed purchases for inspiration.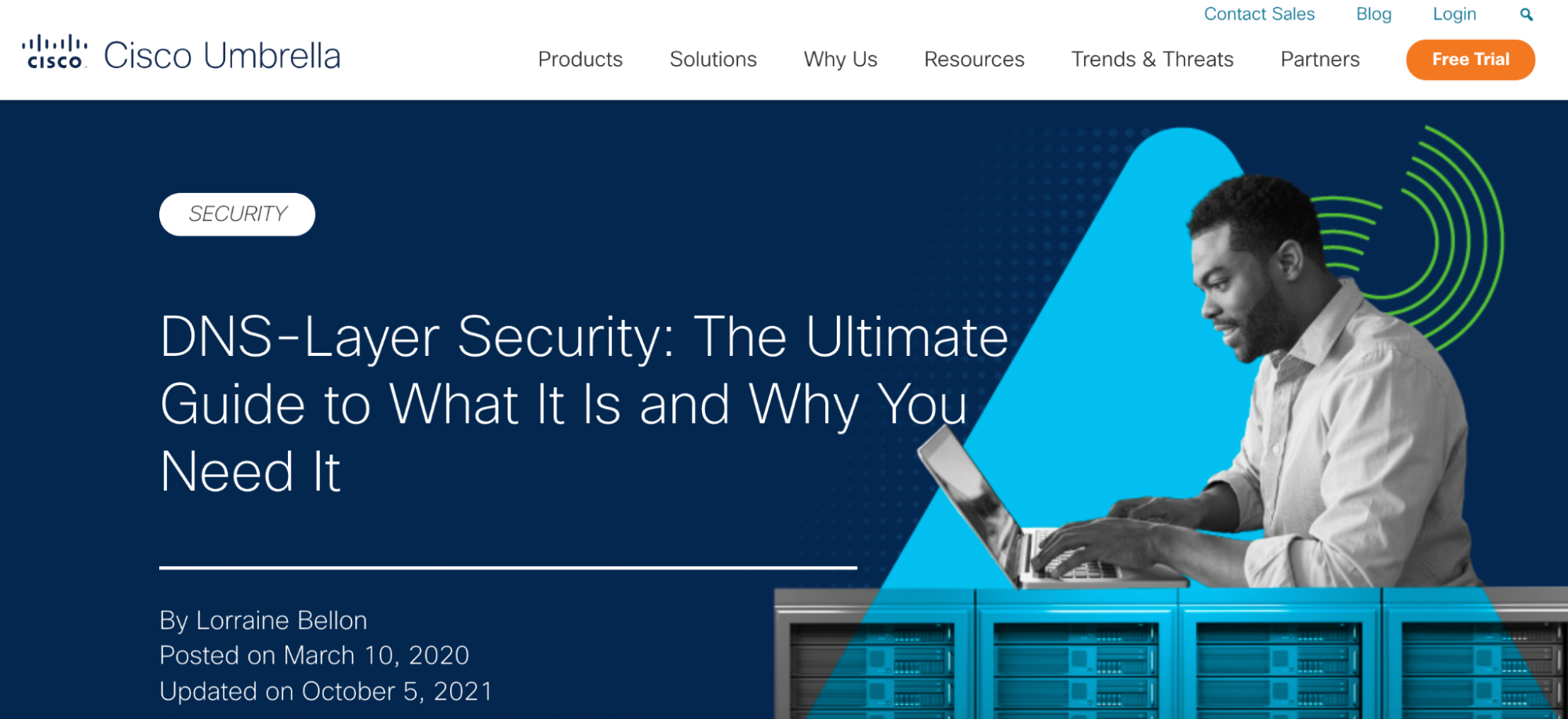 Cisco Umbrella, a provider of cloud security software, has an ultimate guide on DNS Security that does a great job of helping their customers understand what the company is offering. The article covers what DNS security is, how it works, who needs it, and why it's important. This guide is thorough and can help customers determine whether this service is right for their needs. Therefore, it can help customers make better purchasing decisions, leading to happier customers that will want to come back for more.
Consider writing ultimate guides that outline everything someone would need to know about a product or service you offer. Extensive guides like this can help your customers make the purchase that's right for them, which will ultimately lead to customers who are more loyal to your business.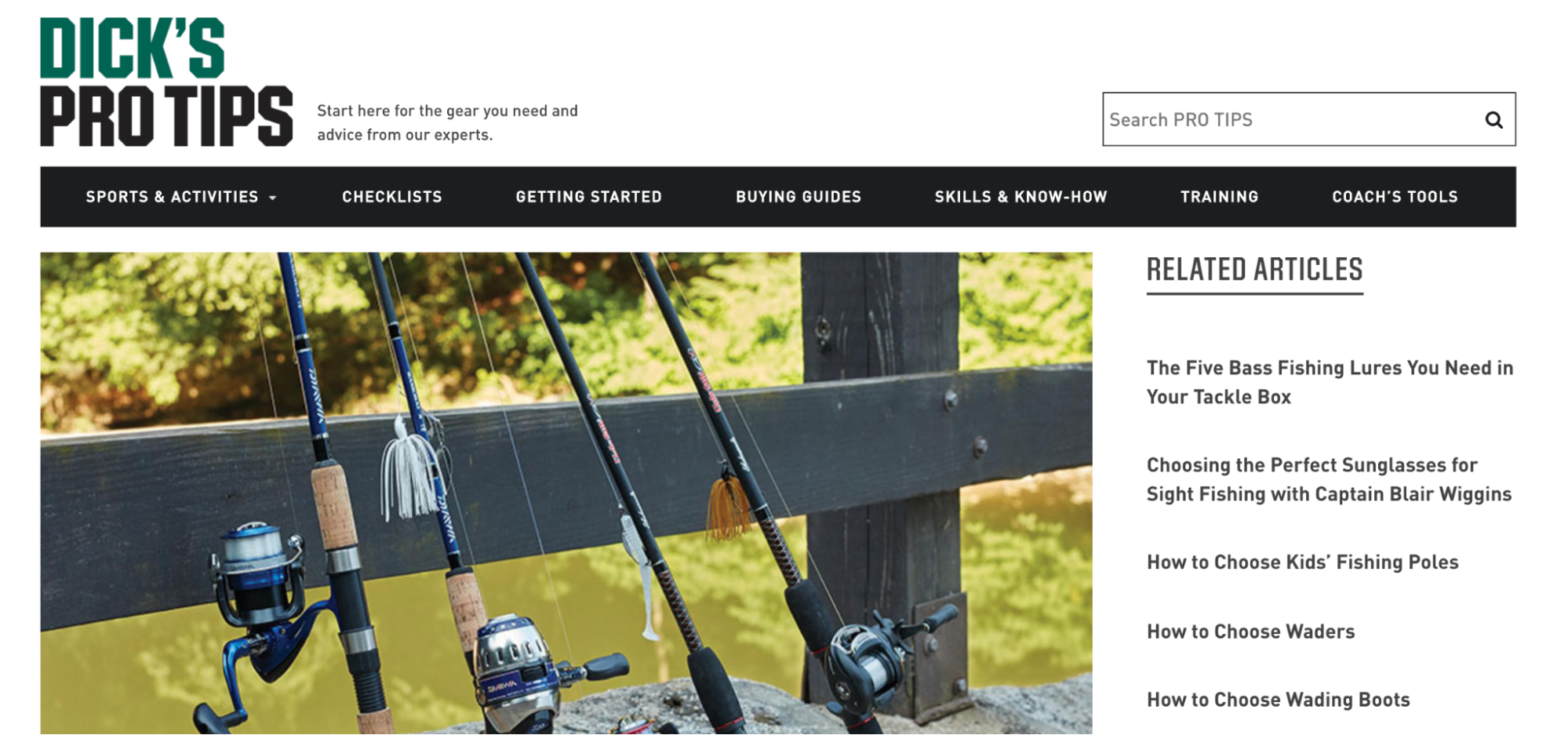 On the other hand, Dick's Sporting Goods, a sporting goods retailer, publishes great buying guides and comparison pieces on its Pro Tips blog. For example, their guide to buying a fishing rod outlines everything someone needs to know before buying. The article covers the different components of the rod, how to choose the right rod length, and more. It's great for anyone who isn't sure what fishing rod they require for the best results.
Dick's Sporting Goods has a ton of different options to choose from, and this guide can ensure their customers make the right choices. This will lead to happier customers, meaning it can help build loyalty with Dick's Sporting Goods.
If you have a lot of different products that fall into the same category, consider writing buying guides or comparison pieces that help readers make the best purchase for their needs. These guides will help ensure your customers' happiness, which will make them more likely to stay loyal to you.
Create a loyalty program to incentivize repeat purchases
One of the most effective ways to encourage people to keep buying from your eCommerce store is by introducing a loyalty program. This will allow you to reward customers for coming back time and time again.
You could also tie discounts to a customers' birthday, send them links to exclusive sales, or create a point system that lets them build up points for prizes and store credit, for instance.
So, create a loyalty program and hype it up with your customers! Promote sign-ups for your loyalty program on social media, in your newsletters, and across your website. This will ensure that your customers know about your program and get excited about signing up.
Always provide the best possible customer service
To earn your customers' loyalty, you'll want to make it as easy as possible for people to get in touch if they have questions, concerns, or complaints. Providing the best customer service is extremely important, and the quality of your service can make or break someone's decision to make a repeat purchase!
Keep in mind that people like to communicate in different ways. To cater to as many people as possible, you need to offer different communication channels. As an eCommerce business owner, you can offer customer service options over email, over the phone, on your social media accounts, or through a live chat service, for example.
If you're struggling to manage a multi-channel customer service system, consider outsourcing some of your services. For example, you could take advantage of virtual receptionists, 24/7 answering services, or email monitoring that can help ensure you help as many customers as possible.
Use social media to stay on your customers' minds
If you can ensure that you're frequently on your customers' minds, they'll be far more likely to revisit your website and shop with you time and time again. Social media is one of the most powerful tools for ensuring that your customers are reminded of your business on a regular basis, so make sure you're putting it to good use!
Here are a few different ways you can ensure that your social posts help to encourage repeat purchases:
Announce your new products

Show how different products or services work together

Highlight any sales or deals your business is having

Post images of people enjoying your products/services
Keep in mind that different social media platforms will work better for different businesses. If you're just looking for the largest audience base, Facebook is the clear option. If you have a lot of visual content, Instagram and TikTok are good options. If you market to professionals, go with LinkedIn.
No matter what platform you choose, be sure to post on your social media accounts regularly (every other day or so). Interact with your customers, as well — this will encourage more engagement from them and make them want to visit your website. If you need help staying on top of your social media postings, consider using a social media analytics tool to stay organized. These tools can help you schedule posts in advance, determine what times of day to post, and more.
Regularly publish valuable content to keep people coming back
If you want people to make repeat purchases, you need to give them a reason to revisit your website over and over again. One of the most effective ways that you can do this is by publishing helpful, high-quality, and informative content that your target audience will be interested in.
To come up with content ideas, start by looking at what your competitors are doing. This will give you an idea of what people want to read about and what topics have already been covered.
Next, think about what common customer questions you could address. Check in with your customer service team and see if there are any questions they get asked regularly. If you base your content on these queries, your customers will feel understood by you, which could lead to them making a purchase!
You can also conduct some keyword research. Keywords are the words and phrases that people plug into search engines in order to find useful content. If you can identify what keywords your customers are searching for and weave them into your blog posts, you'll be more likely to appear on relevant search engine results pages. This will drive more of your ideal customers to your website.
To find the most relevant keywords, head to a tool like Google Keyword Planner with a list of words and phrases related to your business. Plug them into the tool and Google will provide you with a list of popular phrases based on their competitiveness, or how hard they are to rank for, and their average monthly search volumes.
Look for keywords that are extremely relevant to the products or services you sell — some keywords may work as content topics on their own, or you might want to do some further brainstorming in order to determine how you can turn keywords into content. This will help ensure you draw the right people to your website.
Let's take a look at a few examples of businesses that have great traffic-driving content on their websites for inspiration.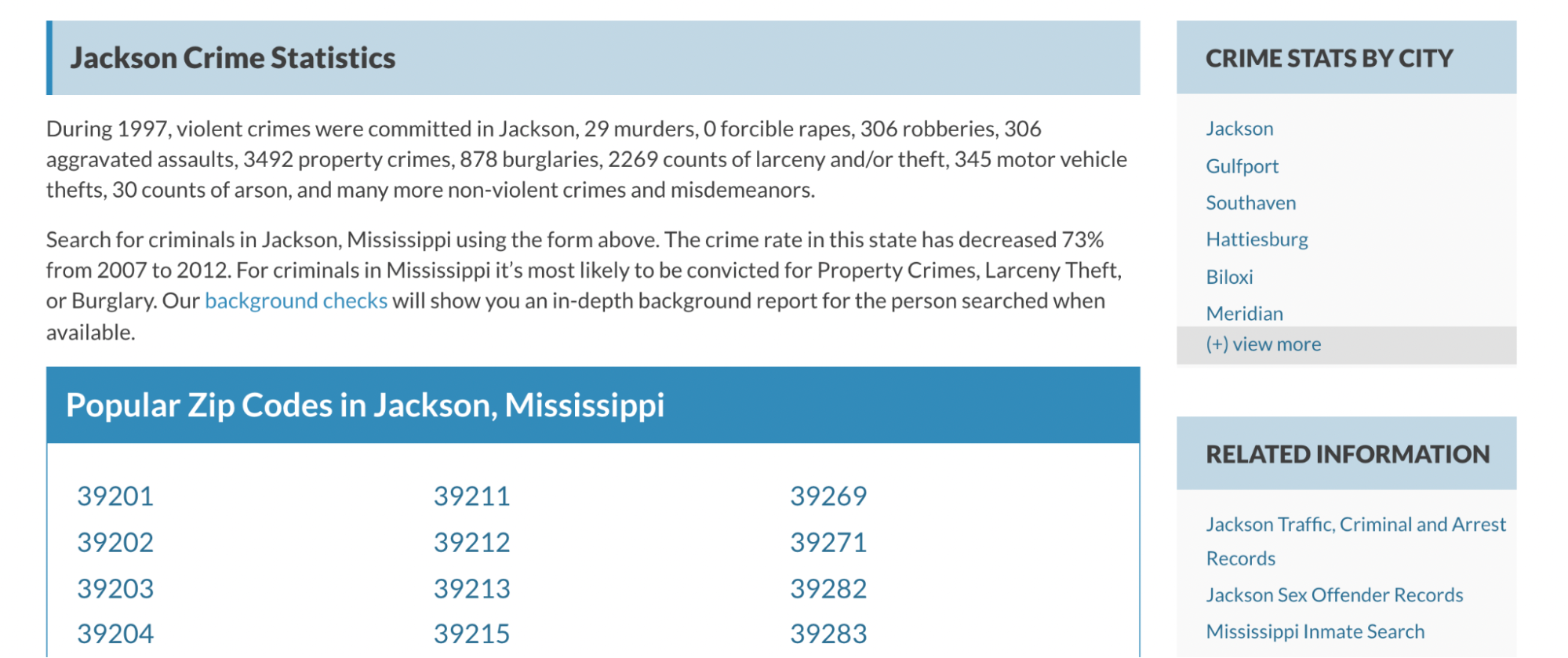 Instant Checkmate, a company that allows users to search public records, has a lot of very valuable content on its website. For example, on their Jackson, Mississippi criminal records page, they have a lot of details about the local crime statistics, arrest records, and more.
This content shows website visitors that they can trust Instant Checkmate to help them with their public records needs, including when they need information on local crime statistics. This indicates to website visitors that Instant Checkmate is a reliable source of local crime information, making them more likely to come back and use their services more.
Check in with your customer service team or use keyword research to determine what information related to your business your ideal customers are searching for. If you can provide this type of content on your website, you'll prove to your customers that you're a source of helpful information. This will make it more likely that they'll visit your website regularly and stay loyal to you.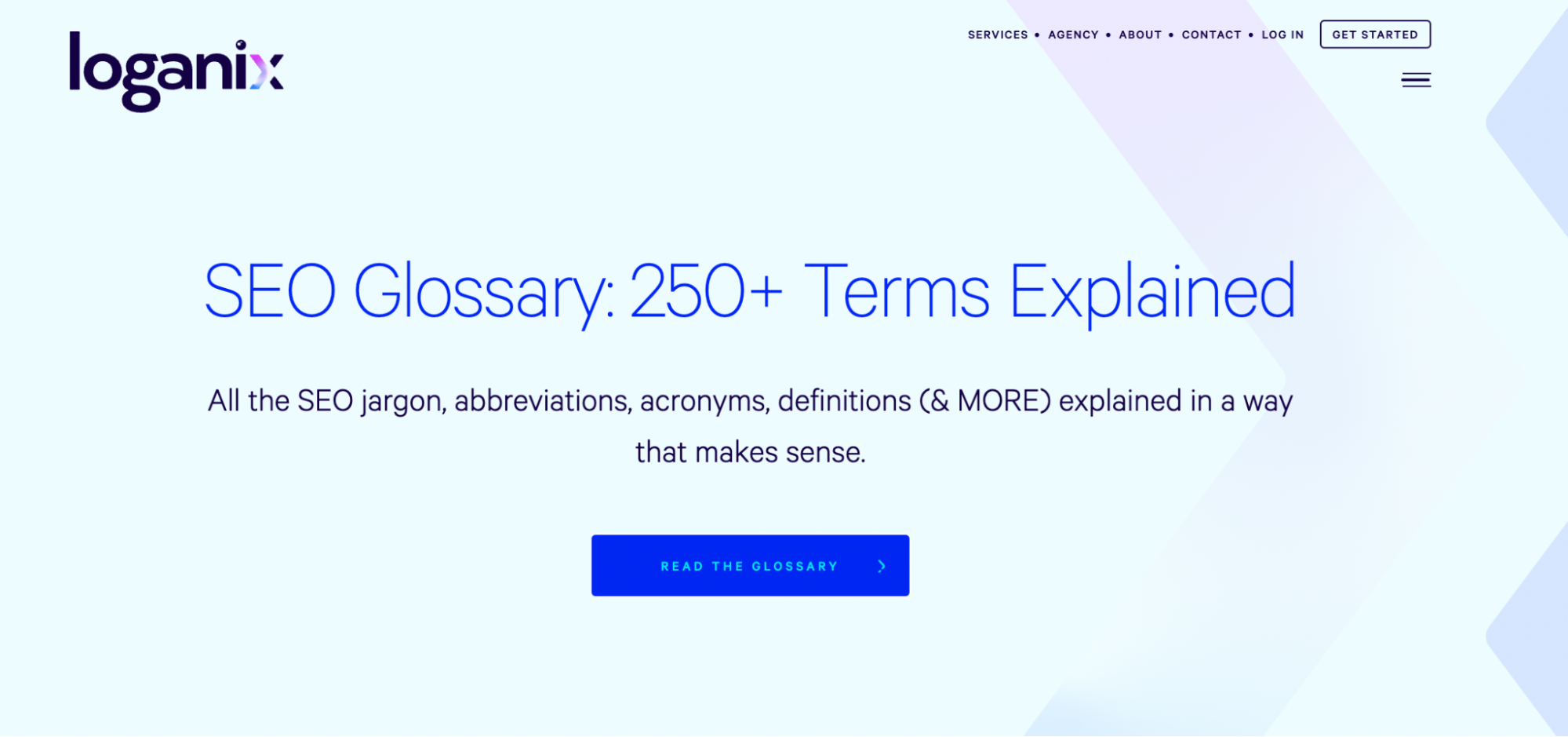 At Loganix, we have helpful content on our website, as well. For example, our SEO glossary simply explains hundreds of SEO terms that anyone involved in digital marketing should know.
As an SEO fulfillment partner, it's important that we offer content like this to our customers — it gives them a resource to reference time and time again. Because this content encourages them to revisit the website, users will become more familiar (and therefore more loyal) to our business.
Think about what resources or content you could create that your ideal customers will want to use over and over again. This is the type of content that will build a relationship with your customers and earn their loyalty!
Summary
Customer loyalty is really important for growing your business! In this article, we outlined how you can increase your customers' repeat purchase rate, including by creating great content, being active on social media, and more.