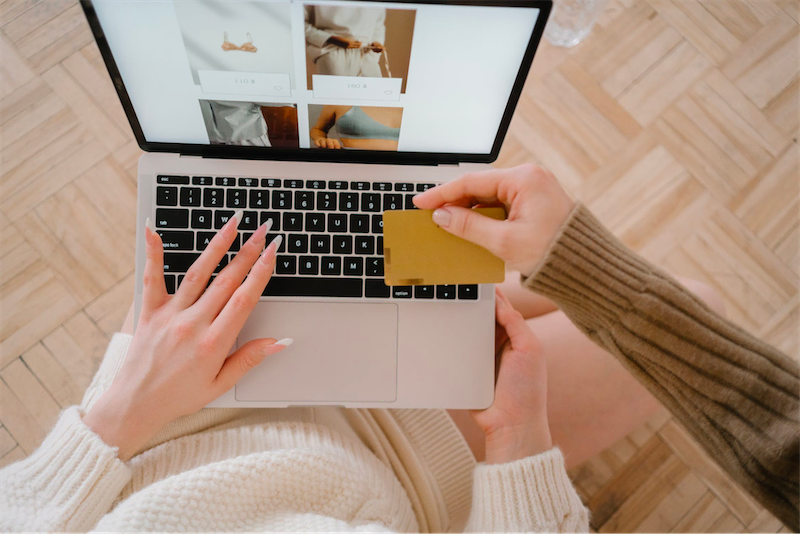 You can't just open an eCommerce store and expect it to make sales — if you want to be successful, you need to market your business! In this article, we're going to outline some of the most effective marketing tactics that every eCommerce business should be using to sell their products.
Let's get started.
Focus on SEO to reach a wider audience
Search engine optimization (SEO) is one of the most important digital marketing techniques today. SEO refers to a variety of strategies that can help your website to rise through the search engine results pages (SERPs). A good SEO strategy can help you get more traffic and ultimately increase your conversion rate!
There are three main components to a successful SEO strategy: content, link building, and technical SEO.
Content
Content marketing is a cornerstone of any digital marketing and SEO strategy. It's the process of creating content that your ideal customers would like to consume in order to pique their interest in your products or services.
When creating content for your website, you need to conduct keyword research to ensure you can attract the right people to your website. Keywords tell search engines exactly what the content on your website is about, making it easier for them to rank your business for certain queries! To conduct keyword research, head to a tool like Google Keyword Planner with a list of words and phrases related to your business. Plug them into the planner, and Google will provide you with a list of keywords based on their competitiveness, or how hard they are to rank for, and their average monthly search volumes.
Many of the keywords Google shows you will work as content topics on their own. Look for keywords that are closely related to your field or niche and weave them into your content. Weave your primary keyword into your titles, headers, and body copy — in the first 100–150 words of an article is ideal, if possible. Secondary keywords can be sprinkled throughout. This will give search engines more context as to what your content is about and promote it to people who are likely to be interested in products like yours!
Link building
Link building is the process of acquiring hyperlinks from other high-quality and authoritative websites back to your own. When this happens, Google takes it as a vote of confidence in your work and will give you a boost on the SERPs as a result.
To build links, you simply need to create top-notch content that people will want to share with their own audiences. Helpful how-to guides, buying guides and comparison pieces, templates, and tools are all very sharable forms of content that can attract links. Guest posting, in which you write expert content for a blog relevant to your field, is also a great way to attract links.
Technical SEO
Finally, technical SEO refers to the technical requirements that indicate to a search engine that your website is of high quality. It's a very important part of website building and can mean the difference between your site ranking highly or not ranking at all.
Getting your technical SEO right can help search engines "crawl" your website and determine how it's structured and better understand your content. Page loading speed and mobile-friendliness are very important aspects of technical SEO, as well. They signal to a search engine that your website is high-quality and will offer a good experience for their users.
Here are a few things to keep in mind when it comes to technical SEO:
Ensure your website has a fast page loading speed (try to keep it under two seconds)

Use internal linking to help search engines crawl your website and understand how it's structured

Remove any dead links

Compress your image file sizes

Make sure your website is responsive and displays well on all device types
If you improve the technical quality of your website, you can rank higher on the SERPs.
Publish content your audience will value
As we touched on earlier, content should be a very important part of any digital marketing strategy. Using content marketing, you can attract your ideal audience to your website and get more sales!
To determine what types of content your target audience will value, start by checking in with your customer service team. See if there are any topics they frequently get asked about. This will give you a better understanding as to what they're interested in. You can also look at your website analytics and see what content is performing well. What are people reading, commenting on, and sharing? This is likely your content that your audience values the most.
You need to ensure that the content you create is high-quality — you can't just create a blog post and expect it to do well. If you publish low-quality content, you risk bringing people to your website that end up quickly leaving, increasing your bounce rate. If your bounce rate is high, Google will assume that your content isn't helpful, hurting your SEO.
If you don't have the time or resources to work on your content marketing yourself, consider investing in professional blog writing services — this will help ensure you're publishing quality content regularly.
Let's take a look at a great example of content marketing for inspiration.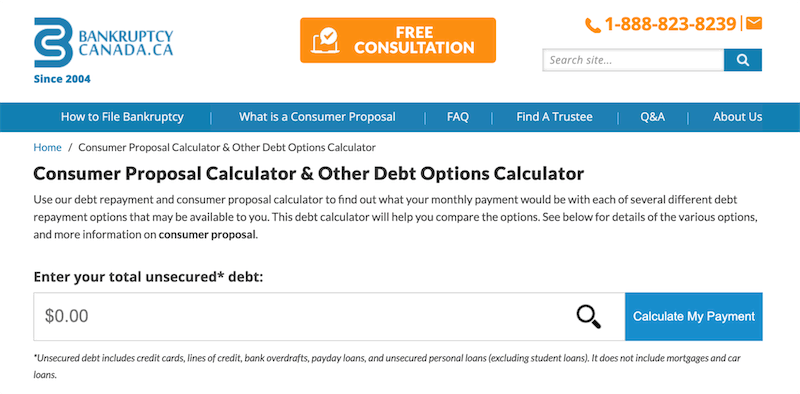 Bankruptcy Canada, a group of licensed insolvency trustees and consumer proposal administrators, has a debt repayment calculator that provides a lot of value for their target audience.
This tool asks how much debt a website visitor has in order to help them determine how much their repayments will be if they use Bankruptcy Canada's services and what their other options are. This is a great tool for a bankruptcy firm to provide — their target audience might find it when searching for phrases like "debt options" or "debt repayment". These people are likely looking for ways to get out of debt or declare bankruptcy, meaning this is content they will value.
Think about what tools or calculators you could create for your website to help your ideal customers. If you can answer their questions or solve problems for them, they'll be more likely to trust you and invest in your products or services.
Display social proof on your website
Word-of-mouth recommendations are incredibly powerful, and you can replicate their effects by adding social proof to your website. This will help new customers to feel more confident about their purchases when buying from you, as well as help them set their expectations for your products or services. When people feel like they have a clear idea of what they'll be getting from your business, they'll be more likely to make a purchase!
Let's take a look at a few examples of websites that have done a great job of incorporating social proof into their websites for inspiration.

Aerial Wakeboarding, a retailer of ski towers and wakeboarding equipment, uses both star reviews and written testimonials to provide social proof on their homepage. As you can see in the image above, Aerial Wakeboarding has a five-star rating from a November 2021 customer! They also outline how much they love the product they bought and how it has changed the look of their boat. When new website visitors see this review, they'll be confident that Aerial Wakeboarding sells quality products and be more likely to spend money with them.
On your website, consider using written testimonials to reassure your website visitors that you offer high-quality products. This is a great way to showcase some social proof and convince potential customers to make a purchase.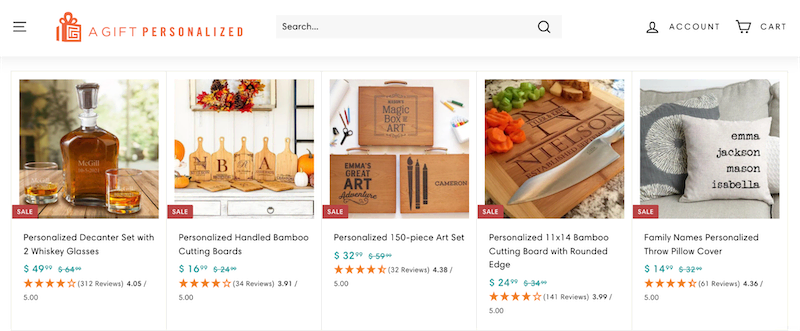 A Gift Personalized, a retailer of custom presents, takes a bit of a different approach to displaying social proof on their website. As you can see in the image above, some of their best-selling products come with an average star rating and the number of reviews they've received, which are displayed below the relevant pictures. This can help website visitors quickly compare the company's offerings and be reassured about the quality of their products, making them more likely to make a purchase.
On your website, show off your product reviews. This will help potential customers compare your products and see what will work the best for their needs, helping you increase your sales.
Use the social media platforms that are right for you
Social media is a very powerful tool that all business owners should take advantage of! But, with that being said, too many businesses make the mistake of trying to be on every platform at once, which can have a detrimental impact on the quality of their content. Stick to one or two platforms that are very relevant to your business.
When picking a social media platform, think about what will work best for your type of business. If you have a lot of visual content, like a restaurant or salon would, visual-heavy platforms like Instagram or TikTok are great options. If you market to other business professionals, LinkedIn is the obvious choice. If your audience is broad and you're just looking for the largest social media platform, use Facebook.
Once you choose which platforms you want to post on, be sure to create content for them regularly. Whether you post weekly, bi-weekly, or even daily, your customers will want to see that you're regularly creating content. This will ensure that you're top of mind when they need products or services like yours, helping you increase your sales!
Create videos that show your products in the best light
Video content is becoming increasingly popular on eCommerce websites! If you create videos that show how exciting your products are, you can make more sales and stand out from the competition.
There are lots of types of video content you can create for your business. You could create production process videos, unique and engaging advertisements, or product demonstrations that show how your products work.
Let's take a look at an example of a business that uses this tactic well for inspiration.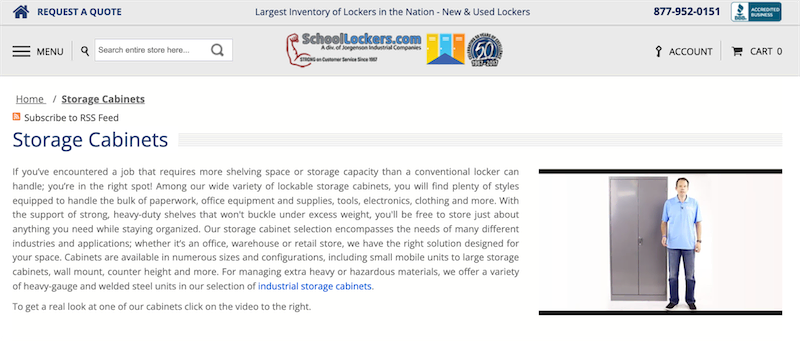 SchoolLockers.com, a retailer of school lockers and storage cabinets, uses video content on their category pages. In the storage cabinets page video you can see above, one of their employees shows off various aspects of their cabinets, including their different sizes and colors. This is a great way for SchoolLockers.com to show off their products and get potential customers excited about their benefits. Additionally, since one of their employees is showing off their products, it helps build trust with viewers and put a face behind the business. This will make it more likely that a website visitor will buy from SchoolLockers.com.
On your website, consider creating similar videos to show off your products or services. Outlining the features and benefits of your products in this way can help website visitors better understand them and encourage more people to make a purchase.
Summary
In this article, we outlined different marketing tactics that every eCommerce company should be using, including social media, video content, content marketing, and more.