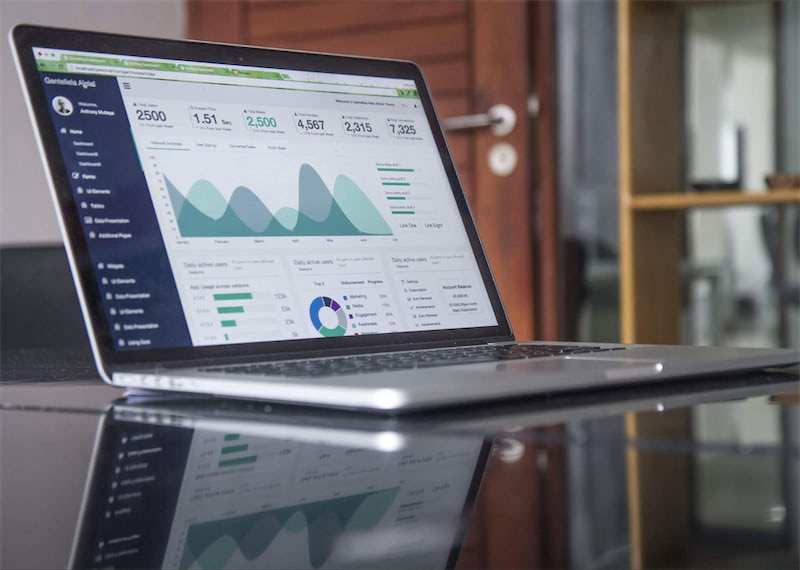 As an online business owner, one of your primary goals will be to attract as much website traffic as possible. However, one common eCommerce mistake is that many store owners simply focus on the number of website visitors, rather than the quality. Not all traffic is created equal and, in order to make as many sales as possible, you need to ensure you're attracting the right kinds of internet users.
High-quality traffic should be made up of people who are genuinely interested in potentially paying for your products or services. And there are a number of tricks you can use to increase your chances of attracting the perfect online audience. Here, we're going to outline exactly how you can drive quality traffic to your website for the best results.
Make sure you target the right keywords on every webpage
Keywords are the terms and phrases that your ideal customers are typing into search engines when they're looking for the types of products, services, or content you have on your website. Targeting the right ones can help you to climb the most relevant search engine results pages, making you a lot more visible on the likes of Google and helping you to reach more of your ideal customers.
If you want to optimize your website to drive more conversions, you need to be very strategic about which keywords you choose to target and where you place them on your website. This will then help you to attract the highest quality traffic possible.
To identify which keywords you should target on your website, you'll need to use a specialist tool like the Ahrefs Keywords Explorer or SEMrush. Once you've chosen your platform, input some simple words that are relevant to what you do or sell. You'll then be provided with a long list of terms that your audience often types into Google, along with their levels of competition and how many searches they receive each month. Put together a long list of popular keywords that are particularly relevant to your website, and you can then get to work on assigning different phrases to different web pages.
To avoid confusing search engines and ruining your chances of ranking well, you need to be very particular about which keywords you target where. For instance, you won't want to target a specific phrase on multiple pages of your website, or search engines won't know which page you want them to rank for similar queries.
You also need to look out for both commercial and informational keywords. Commercial keywords indicate that someone intends to buy something straight away and should be targeted on selling pages, such as your eCommerce category or service pages. On the other hand, someone may be using informational or question keywords to do some research and might be looking for content that will help them to answer an important question or address a pain point. Phrases like this should be targeted in the content you publish on your company blog.
By targeting the most appropriate keywords on every page of your website, you'll attract the right people, provide them with exactly what they need, and make more sales as a result.
Take full advantage of email marketing
If you aren't already focusing on building a mailing list of people who are interested in your products or services, it's about time you started. Having the contact details of past customers or people who are already seriously considering buying from you is invaluable, as it gives you a direct line to the most relevant people when you launch a new product line, publish a new piece of content, or need to boost your sales.
Because people need to actively sign up to your mailing list to receive emails from you, this means you'll essentially create a database of people who are primed and ready to hear more about what you sell. Therefore, by nature, your mailing list can be a fantastic source of high-quality website traffic. The people who click on any links you email to them will already be interested in what you sell, so giving them a reason to visit your website can be a great way to make more sales.
For the best results, you should email your mailing list on a regular basis and ensure you mix things up so you aren't always sending promotional emails that encourage people to part with their money. You could also provide them with exclusive content, links to your blog articles, news about any sales you're going to be running soon, and more. You need to provide as much value as possible if you want people to continue opening your emails and click on your website links when it really matters.
Publish expert content that provides genuine value
Another way you can attract high-quality traffic to your website is by consistently publishing content that you know your ideal audience will genuinely want to read. This will lower your website's bounce rate and give visitors a reason to return to your website time and time again, increasing the chances of them eventually converting. Plus, it will give you the chance to show you truly understand your audience, which will help you to earn their trust and loyalty.
To identify the questions and pain points you need to be addressing in your content, again, you can use keyword research to find out what your ideal customers are researching. You could also speak to your customer service team to see if there are any relevant queries they get quite frequently, and even ask your audience directly through online surveys and social media polls to see what they would like to learn more about.
Doing this preliminary research will then allow you to create guides, tutorials, and helpful articles that will draw the right people to your website. To give you an idea of what this content might look like, let's take a look at a few examples from businesses that are already using this tactic well.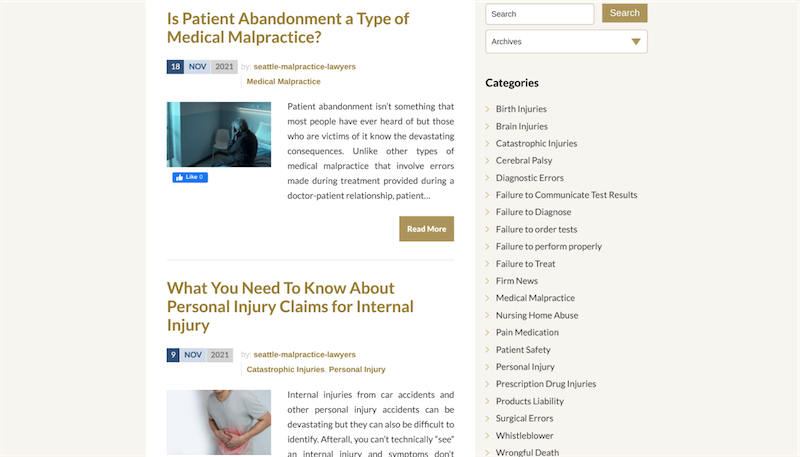 The Tinker Law Firm PLLC is a law firm that specializes in cases of medical malpractice and birth injuries. So, they regularly populate their blog with content that answers any questions prospective clients might have about these kinds of cases.
They've covered a wide range of topics, including what is and isn't considered to be medical malpractice, what to do if you think you've been a victim of medical malpractice, and what you need to know before launching a case against a medical institution. Prospective clients may first learn of the firm through its content while doing their own research, so it's a great tool for driving the right traffic to their site. This means it's very likely to help them increase their caseloads and secure more clients.
Using a similar technique could attract more of your target customers to your site, too. Write a long list of questions your audience tends to have and then aim to answer them in a series of blog posts. It's an effective but subtle way to promote your services and will help you make more sales.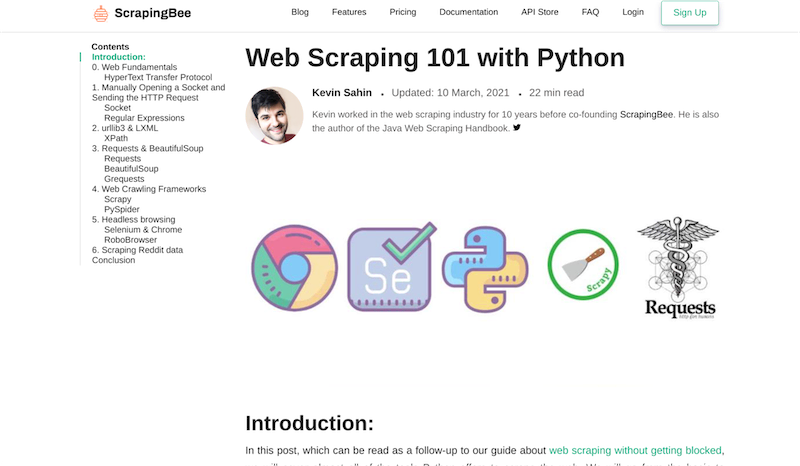 ScrapingBee is another company that does a fantastic job of providing genuine value with their content, which is sure to help them attract high-quality traffic. They specialize in preventing people from getting blocked when scraping the web, and they also publish helpful content their ideal audience is sure to appreciate. For instance, they have a great guide to Python web scraping, which outlines everything someone would possibly need to know to carry out such a task.
Again, it's likely the company's audience will come across their website while doing their research and may even invest in their services off the back of this. That's why it's such a great tool for attracting high-quality traffic that has a good chance of converting into sales.
Is there an important process you could outline for your ideal customers to attract their attention, win their trust, and subtly promote your services? If you can take inspiration from ScrapingBee and create a very detailed guide that will provide your audience with some helpful advice, you'll be on to a winner.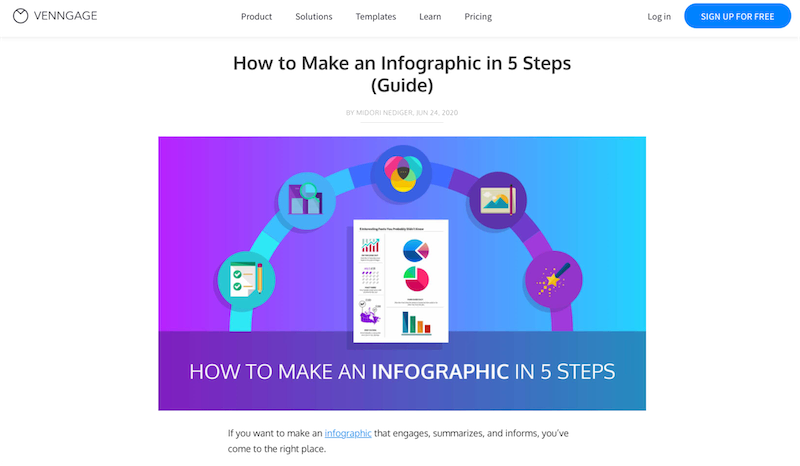 Our final example of great content that attracts high-quality traffic comes from Venngage, a graphic design platform that helps people and businesses to create professional standard infographics. Their blog offers a wide range of helpful guides that their audience is sure to appreciate, and this includes a tutorial on how to create an infographic in five steps.
Again, someone doing research related to what Venngage does — particularly about how to create an infographic — could come across this guide and learn about the company as a result. The guide also provides a lot of valuable information and even comes with some helpful templates that will allow users to get off to a great start. So, it's sure to earn people's trust and make the company more sales.
Could you create a detailed tutorial to help people understand a process closely related to what you do? Better yet, if you have templates or people can use your tool to make their lives easier and complete their tasks to a higher standard, you'll effectively promote your services and make more sales as a result.
Stay active on social media
The more active you are on social media, the more you'll be likely to attract the right people to your website. This is especially true if you regularly share links to your website and give people a good reason to click through. This could include if you've just published a great new piece of content, you're running a limited-time promotion, or you've launched a new product line your audience will love.
But, just like with your email marketing, you need to ensure you aren't just using social media to promote your business — you also need to provide real value for your audience so they genuinely enjoy scrolling through your feeds.
Staying active on social media can be easier said than done, especially if you're running a small business and need to manage your accounts alongside the day-to-day running of your company. So, it can be helpful to plan an entire month's worth of social media content at a time and then bulk schedule all of your posts to ensure a consistent output.
A social media marketing platform such as a Facebook publishing tool can take a lot of the work out of ensuring you always have something ready to post for your followers. And you can keep track of what you've promoted when so you can ensure a great balance between both promotional and informative posts that will drive the right people to your website.
Write guest posts for websites that are relevant to your audience
Our final tip for driving high-quality traffic to your website is to guest post for other websites that your audience will already be visiting. Guest posting involves writing an article for another company's blog or a publisher's website in order to spread the word about your company, demonstrate your expertise, and build a link back to your own website. It can be a great marketing tactic and is generally very cost-effective, so it's certainly worth a try.
To get the best results from your guest posting efforts, you'll want to ensure that you write for the right websites. To drive high-quality traffic to your site, you'll want to choose reputable sites within your industry, as this will mean that some of your target customers will already be visiting your chosen website and may be interested in buying from you.
You'll also want to give off the best possible impression of your business, so the articles you write need to be very detailed, helpful, and free of any grammatical or spelling errors. The subjects you cover should also be very relevant to your area of work and you should focus on those that demonstrate your skills and knowledge perfectly.
If you simply don't think you have the time to write great content for a range of relevant websites, Loganix offers a guest posting service that will take this task off your hands. We can do everything from finding the right sites to producing the content, so you can sit back, relax, and reap the benefits.
Summary
If your website is attracting a lot of traffic but that isn't converting into sales, you're probably drawing in the wrong people. In this article, we outlined how you can ensure you're only driving high-quality traffic to your website so you can reach your ideal customers and make a lot more sales.
And, if you would like to learn more about growing your business, make sure you visit the AbanteCart blog. They have lots more guides that will help you to ensure you succeed in the eCommerce world.