Cart abandonment is a major issue for eCommerce businesses. The average online shopping cart abandonment rate can be as high as 69.57%. Or, to put it another way, there's a chance that just one in three people who add products to your shopping cart make a purchase.
That's a problem. The good news is that any improvement you can make to your conversion rate will result in a direct boost in profits. Here are ten strategies you can try to reduce your cart abandonment rate.
Keep the design simple.
Clarity and simplicity are drivers of a seamless user experience for any website. So, keep your checkout page simple. Include key input fields and relevant information. Your website's call-to-action (CTA) should be easy to spot as well.
Apple is a brilliant example of a brand with a straightforward checkout.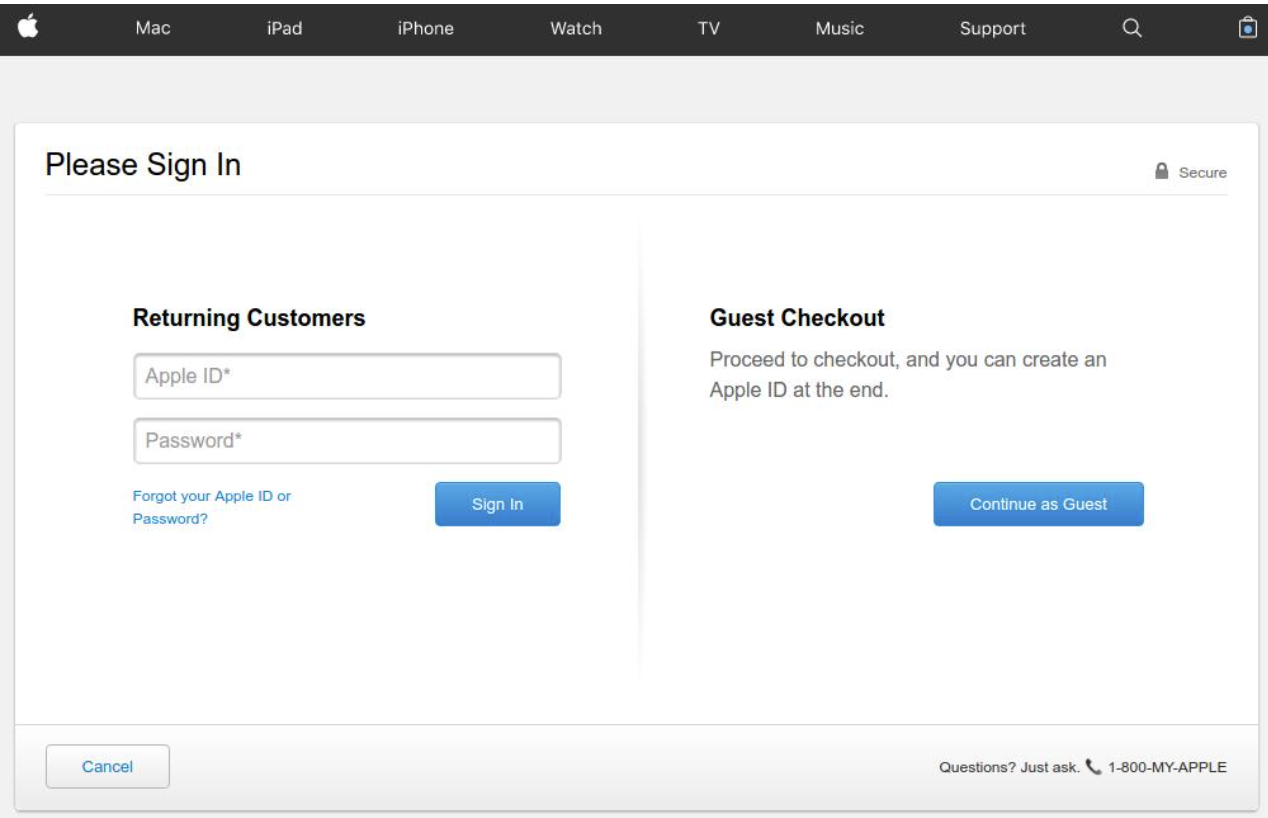 Ensure navigation around your checkout page is easy and the page is optimized for mobile devices. To incentivize conversions, include a call to action to encourage the prospect to complete their purchase.
Offer multiple payment options.
Make sure your website has a well-integrated payment gateway that welcomes multiple payment options. The more, the merrier, but don't overcomplicate the whole transaction.
You should accept payments with the most popular from the most credit and debit card companies. The universal buddy, PayPal, is still going strong, but mobile payment apps such as Apple Pay and Google Wallet are becoming more popular, especially within younger demographics.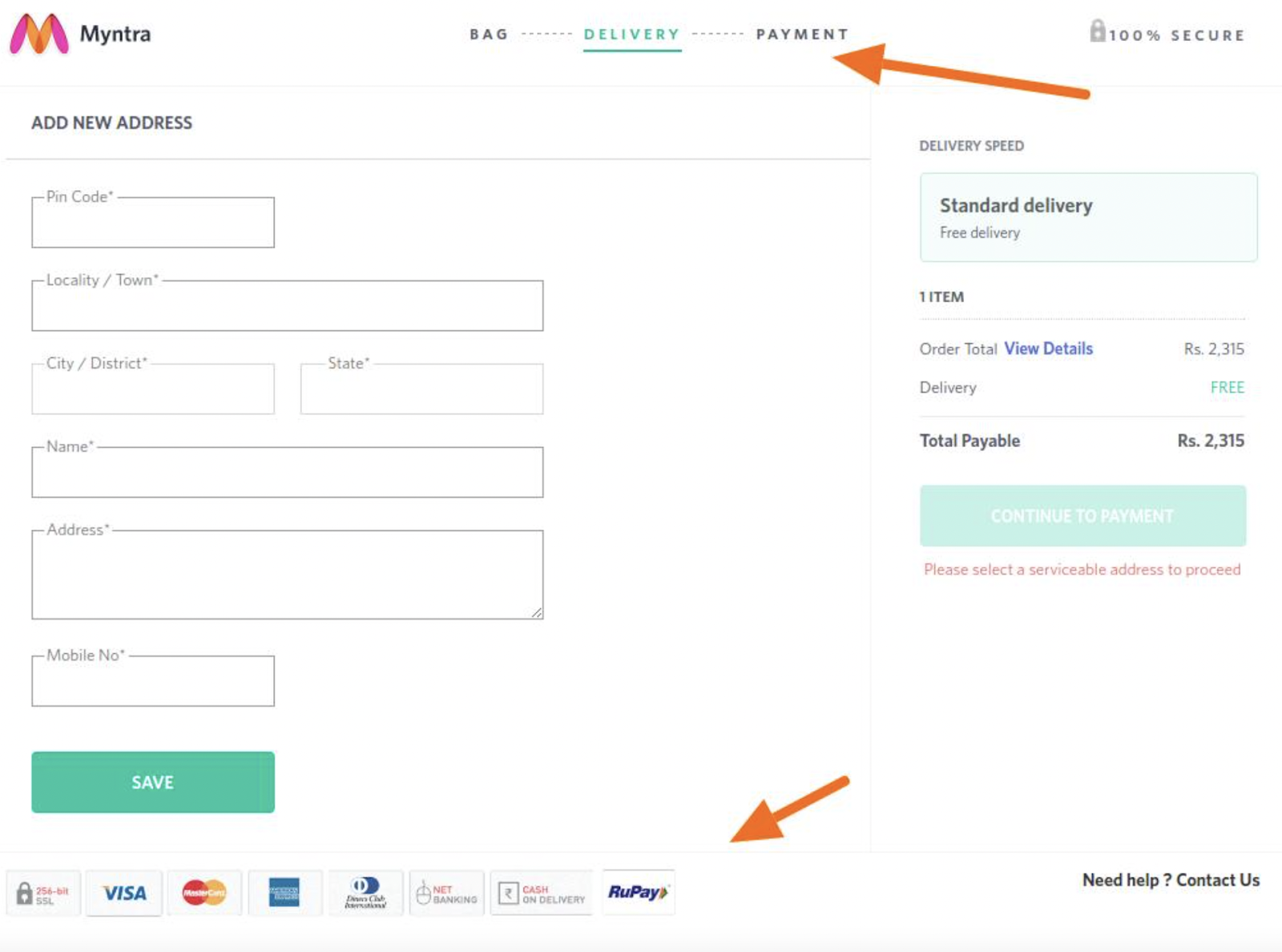 The image shows how Myntra's multi-page checkout seamlessly ties their three-step order journey (cart, delivery, payment). When customers click on the checkout, they have a clear idea of their order with the progress bar at the top and payment options at the bottom.
Pro Tip: As a seal of trust, add the logos of payment options to your page. You can also include security logos like Myntra does in the bottom left corner.
Use exit-intent pop-ups.
Enhancing customers' experience is at the heart of a good ecommerce strategy. By curating a mix of off-site and on-site marketing efforts, you are sure to attract shoppers and get them to reconsider making a purchase. Using an exit pop-up is one such tactic that can help you increase those conversions.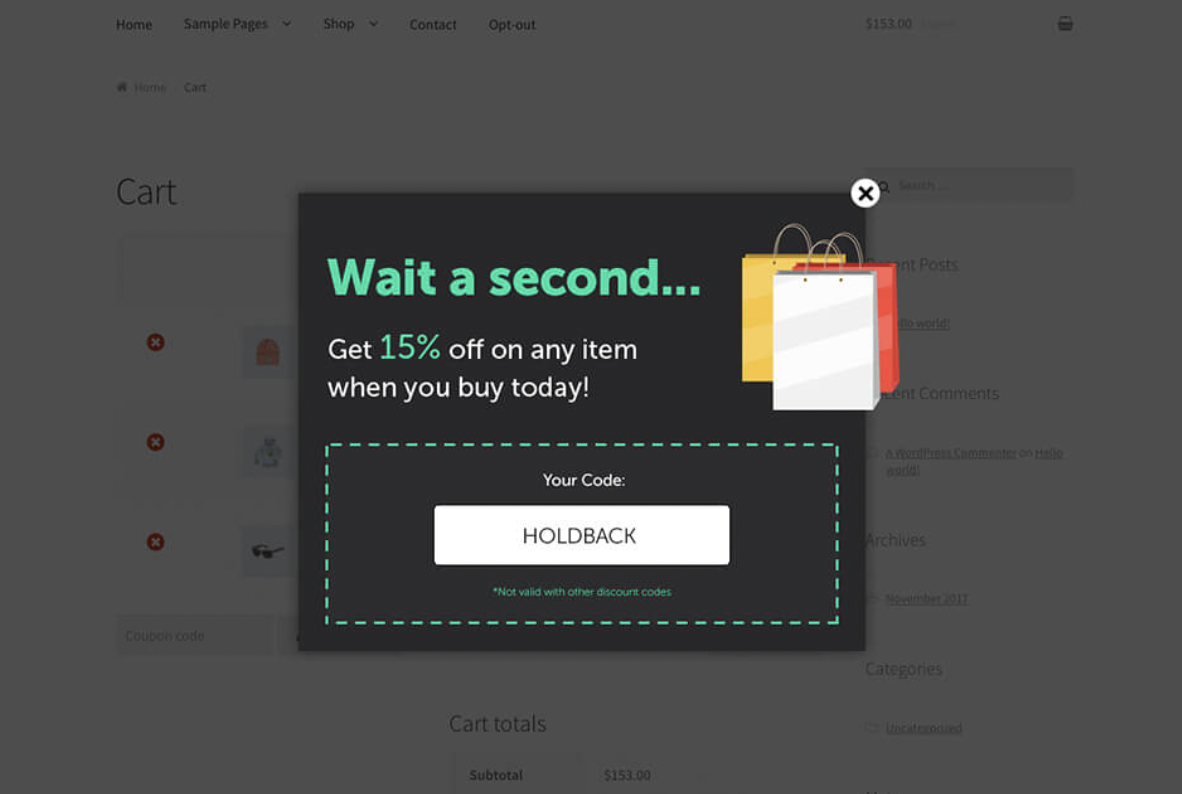 An exit-intent pop-up uses Exit-Intent Technology to nudge a pop-up when an active user leaves your checkout page. That means you can seize the exact moment to catch your customer's attention before they abandon the cart. You can use gamified optin forms to increase the chance of a conversion.
Remarket to get consumers back.
You can never go wrong with the suitable old remarketing ads tactically targeted towards cart abandonment. Facebook remarketing ads are best for targeting people who abandoned your shopping cart. Your ads act as a reminder to complete a purchase.
Remarketing with Google and Bing Ads is also effective.
When you use this option, make sure to create relevant ads. For example, offering a discount of some form might be just the incentive a person needs to complete a purchase—more on that in a second.
Offer incentives based on the cart amount.
We all love discounts and sales. But how wisely you use them to entice customers makes all the difference! Unless you are a well-established brand, putting out significant discounts might position your products as "cheap" or "easily available". On the other hand, a well-thought personalized strategy of promotional offers can win you more customers.
With the help of pop-ups or cart abandonment emails, you can send relevant promotional deals or coupon codes to people who failed to make a purchase. That way, you interact directly with customers who showed interest but need an extra push to make a purchase.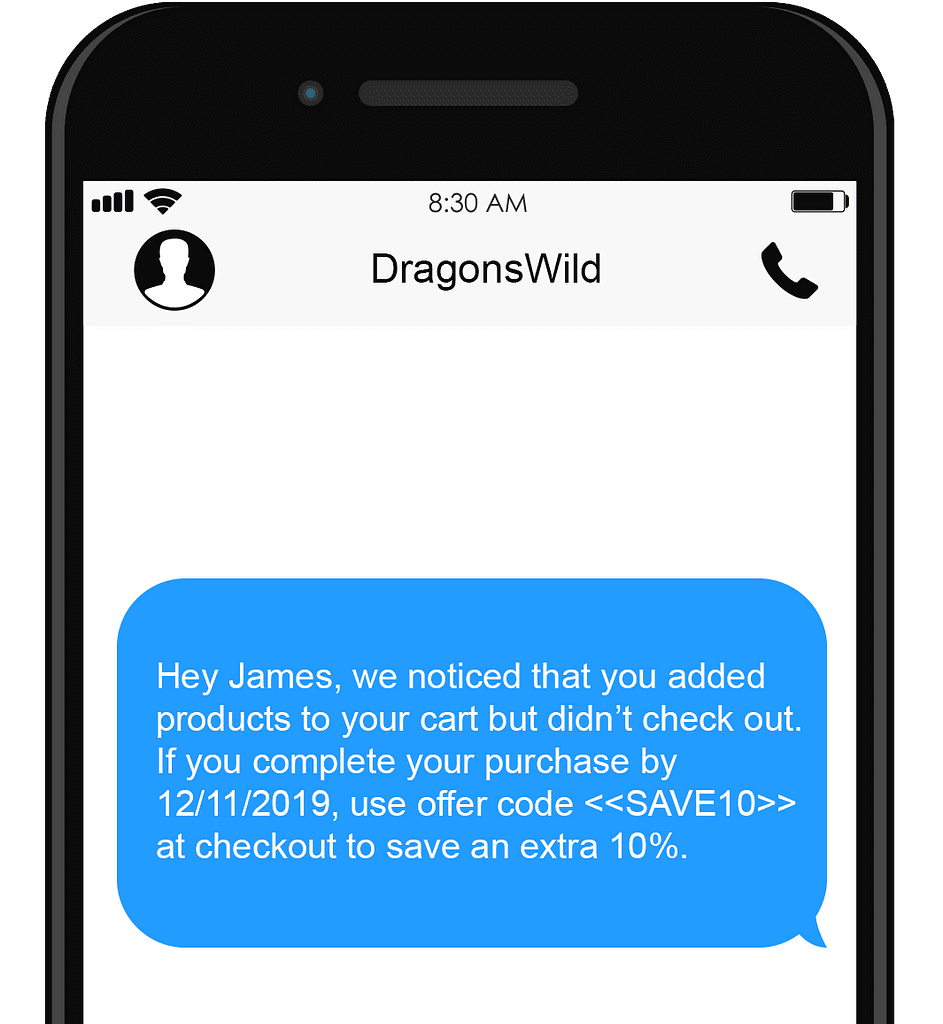 You can create a specialized team to help you with pre-sales customer support. That means you're not relying only on bots to address your customers. Being proactive and personal in your marketing approach goes a long way in winning trust and loyalty. Your pre-sales teams can help you understand buyers' preferences and, in turn, allow you to offer more relevant deals.
But managing multiple teams can be troublesome. A simple work scheduling app can do the job for you! It helps you keep track of your resources effectively and improves staff accountability too.
Always remember, there's nothing better than personalized customer service to gratify your buyers with new deals and offers based on their preferences.
Be clear about the costs.
Nobody likes it when advertisements lie or when you see something on ads and discover quite the opposite on a website. So, always make a point to avoid discrepancies, especially when advertising costs/offers.
One of the biggest downers for any customer is the "hidden cost" revealed at the end of checkout and ultimately results in cart abandonment. So it's good to be transparent about your discounted deals or shipping cost across all your marketing channels. If your product has additional costs, say so from the start. Your customers will appreciate you even more for that.
Don't sneak the hidden costs at the end of a transaction. You'll only lose customers.
Offer free shipping.
Déjà vu alert! You might have experienced this before as an online shopper---When you fill your shopping cart at a specific price only to discover its 10x cost at the checkout. Not sure about the reason?
It's often the taxes and shipping costs.

As a brand, you can reduce these unexpected costs for your customers by offering free shipping. In addition, look for areas on your website where the buyers can be ambushed by unwelcome news, like extra costs.
Also, promoting free shipping on your website and app is a great marketing tactic to attract customers. That will motivate your customers to load up their shopping cart, knowing that they won't be surprised by overblown delivery charges.
Use product thumbnails.
When you shop from an actual store (offline), you can see your shopping bag right in front of you as you pick up more items. On the other hand, shopping from a website may not give you that experience. Therefore, using product thumbnails is a good idea to reassure your customers of what they're buying.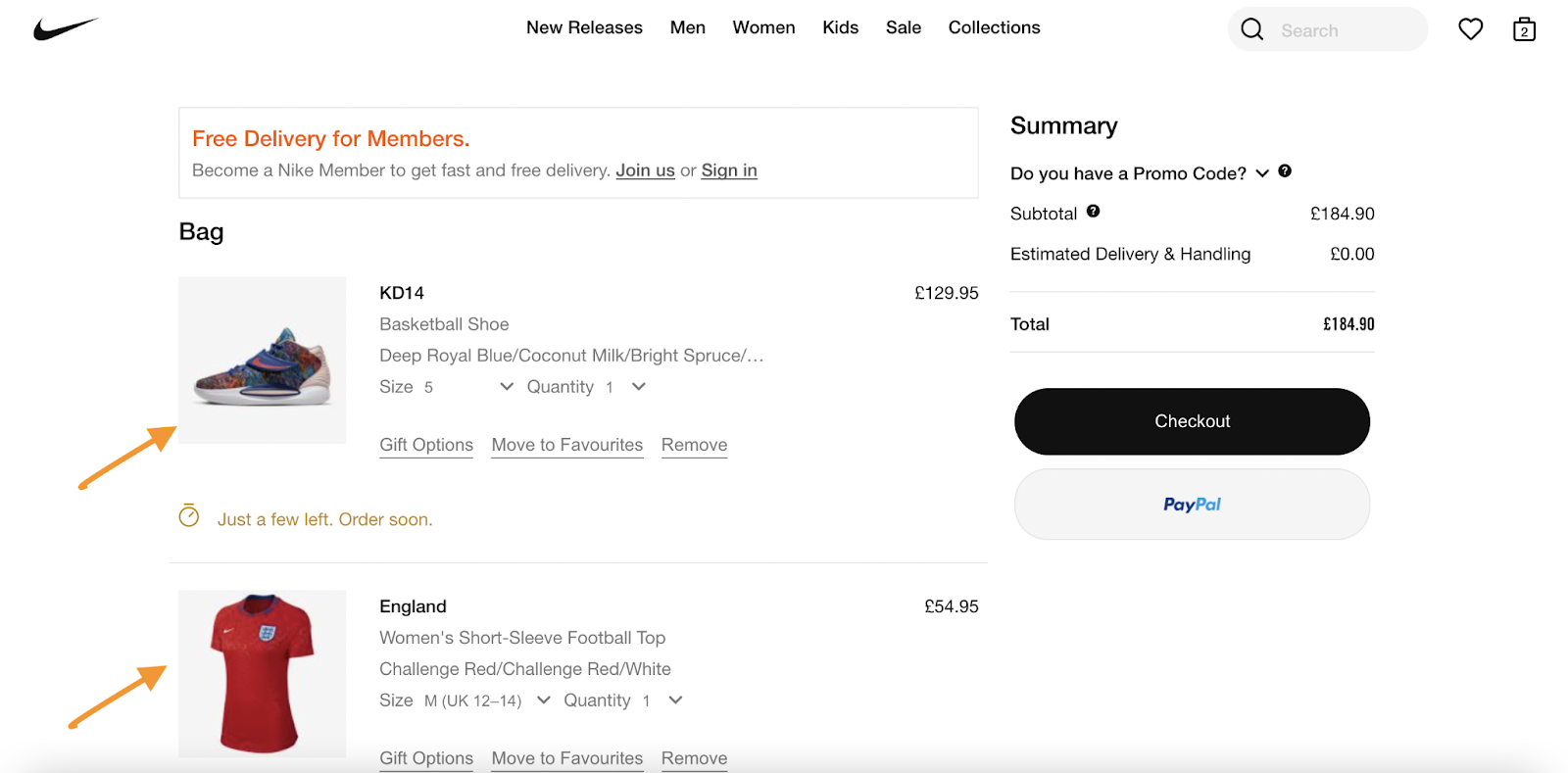 By putting small product snippets in the cart, you keep your buyers away from any possible distractions. When customers can't remember what they put in their cart and what else they need now, what do they look at? The thumbnails.
In short, the product thumbnails help ground a buyer throughout the order process and minimize the risk of cart abandonment in a moment of apprehension.
Improve page load time.
Do you know that slow websites can drop shopping cart conversion rates by up to 7%? The checkout page of any ecommerce site that takes time to load pushes impatient shoppers to purchase elsewhere.
So, before anything else, consider optimizing your checkout pages to be smooth and fast. There are many resources you can read to determine how to improve page load time. Some on-page technical elements can be easily optimized. For others, you might need the support of a programmer.
An example of something easy to optimize is your images. Optimizing images will reduce the size of the page and improve load times. On the other hand, optimizing your server requires more technical knowledge and is a task that is harder to complete.
Include a guest checkout option.
The purpose of choosing online shopping over physical stores is to give your customers a sense of ease and convenience. It's always best to save customers from all the hard work of filling forms, creating an account, and then authenticating it as well.
The guest checkout option can earn you those extra brownie points by simplifying the process of making a purchase.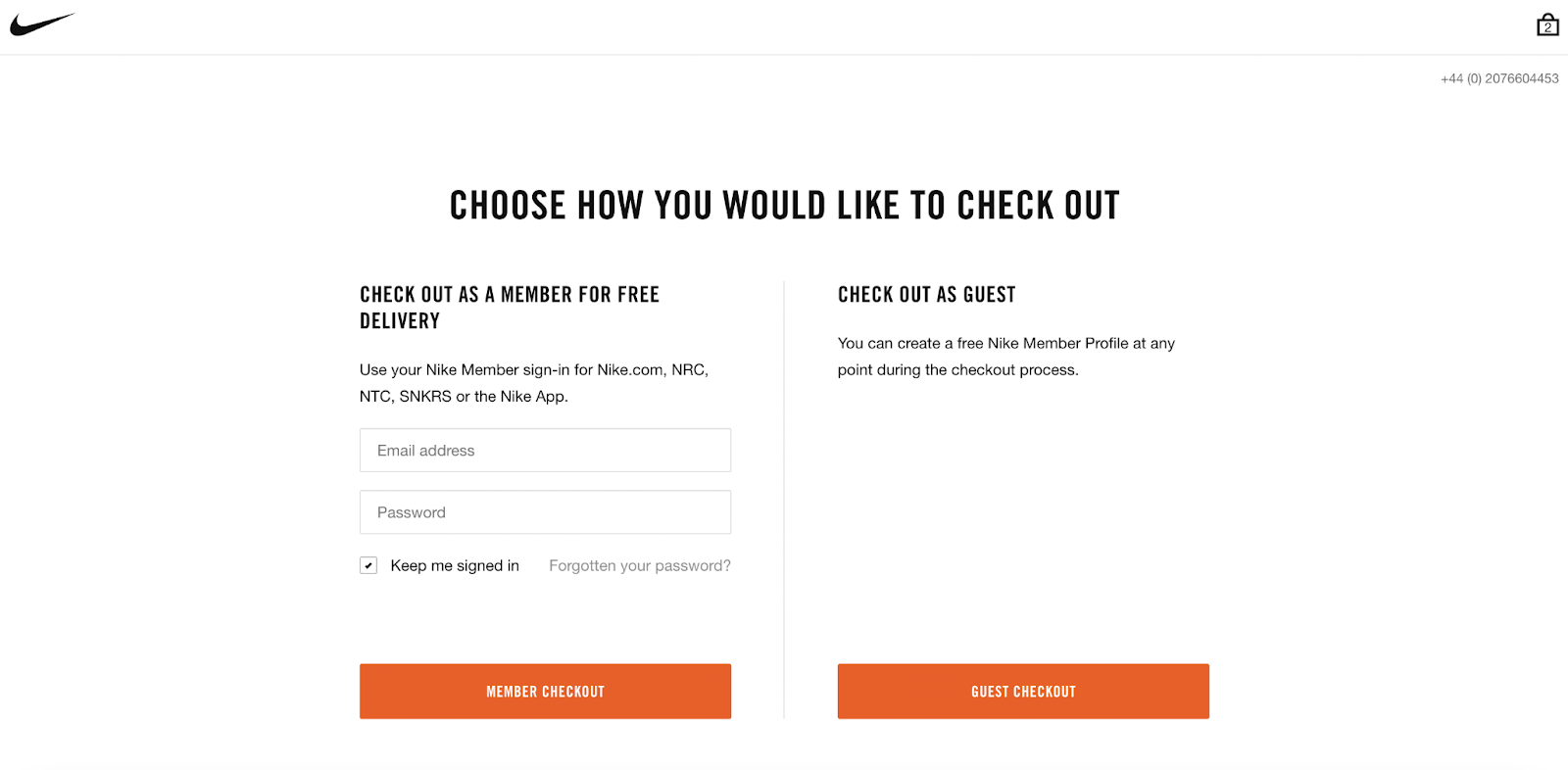 Try to ease the checkout process as far as possible. The easier it is to buy from you, the more likely a person is to make a purchase. Focus on making your website as user-friendly as possible.
Taking a cue from Nike's strategy, it's best to let your buyer decide how they want to complete the order. After all, it is the customer who is above anything else, and they love to see this for real.
Bottom Line
Cart abandonment is something you can't possibly avoid. You can, however, at least try to reduce cart abandonment. Build a strong CTA, offer multiple payment options, use exit intent pop-ups, and do remarketing. Don't forget to offer incentives, be clear about costs, and endorse free shipping. Also, optimize your website for speed, include product thumbnails, and have a provision for guest checkout.
Follow these tips, and you're all set!
Consider patting yourself on the back for chalking out a good marketing strategy that will help you retain customers and drive positive results.
Bio
Owen Jones is the Senior Content Marketer at ZoomShift, an online schedule maker app. He is an experienced SaaS marketer, specializing in content marketing, CRO, and FB advertising. He likes to share his knowledge with others to help them increase results.