If you've ever owned an ecommerce site, you know it can be difficult to reduce bounce rate.
You did everything right. Your website has high-quality visuals, compelling copy, and it's optimized for SEO. Yet, it's not enough to make new customers sign-up stay in your online store.
It happens all the time: Potential customers come but go quickly.
The result is a missed chance at conversion and a loss at potential revenue.
To solve this problem, consider using website popups.
Why Use A Website Popup?
Website popups may seem annoying—but they can be effective.
Sumo analyzed approximately 1,754,957,675 popups and found that the top 10% with the highest performance had an average conversion rate of 9.28%. Furthermore, the average conversion rate for all the popups was 3.09%.
Having a website popup gives you another opportunity to convert customers and get them along the sales funnel. As a last resort, you can use it to offer a discount, free shipping and downloadable content so visitors sign-up or make a purchase.
At the very least, an email sign-up will give your business more opportunities to get in touch with leads or prospects. Then, you can make them move along the sales funnel.
So today, I'll show you how to utilize website popups to recover lost revenue.
1. Exit-intent popup
An exit-intent popup appears before customers leave your online store.
Some people may find these popups irritating. Yet, there's no harm in using it to reel in first-time site visitors. After all, they were about to leave your website anyway.
In fact, OptinMonster reports that an exit-intent popup could help businesses recover around 53% of abandoning visitors. Additionally, Backlinko founder Brian Dean shared that last-minute popups helped him snag 50,000 people to his subscriber list!
Exit-intent popups have a lot of potential for your online business.
Of course, you'll need to sweeten the deal by including free shipping and discounts. Otherwise, visitors won't be compelled to make a last-minute sign-up.
For example, Optinmonster's popup for Black Friday promotes its 60% off deals. What's more, they included a countdown timer and the words "Limited Time Only" to compel customers to take up the offer.
Another thing we loved with this popup is the huge red "Claim My Discount!" CTA button. It definitely pressures customers to stay on the site and claim the offer.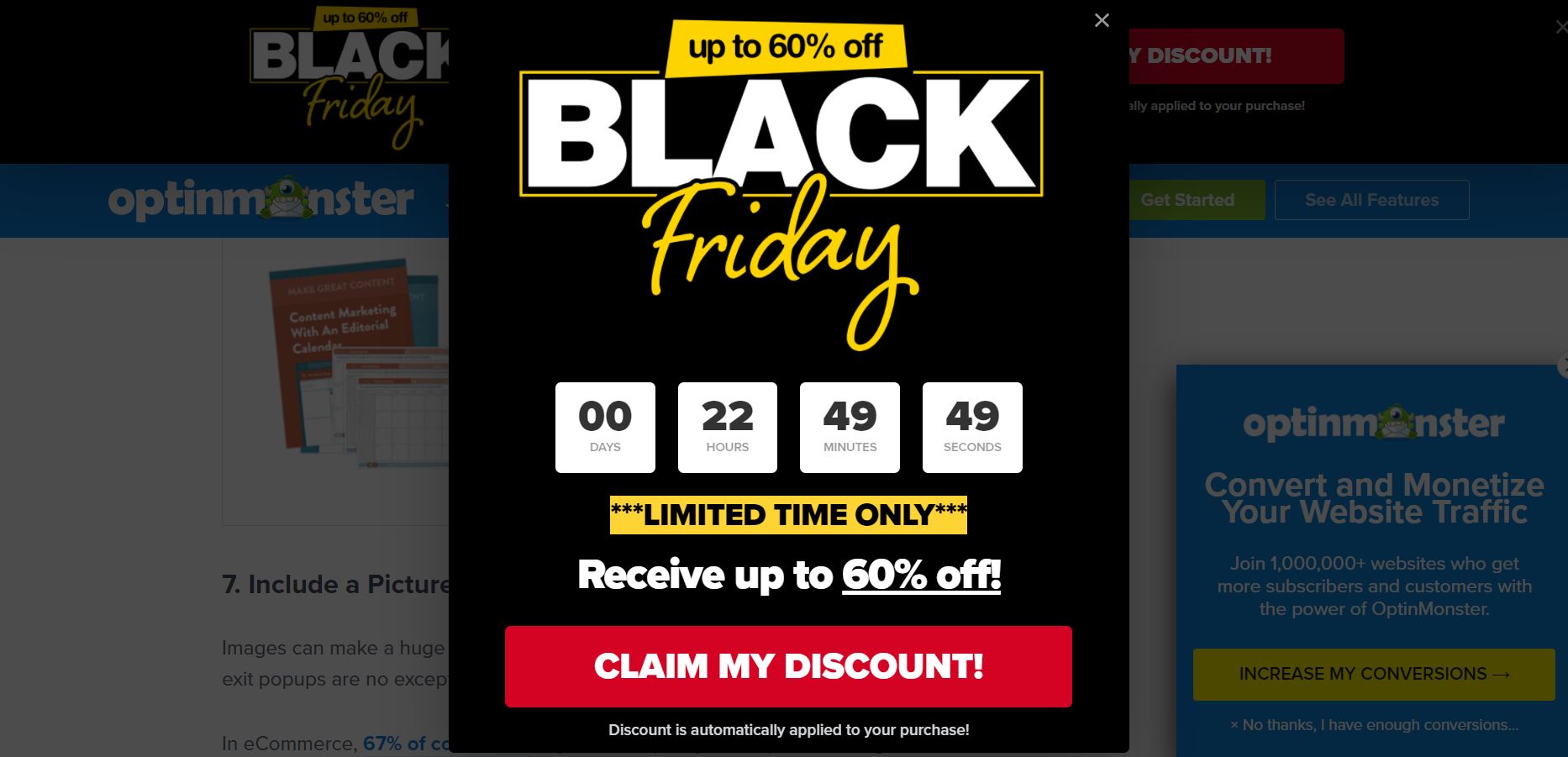 2. Chat or support page popup
Sometimes customers leave your site because they're not entirely convinced about your offer. Sure, they've read the features page and pricing plans but it's still not enough to seal the deal.
In this case, a popup that directs users to a chat or support page may be the best way to convince them to use your product. This is especially true for businesses in the B2B or tech space who sell complicated software.
Rather than a discount, a live chat with customer service or sales agent may provide them with the answers they need to move to the next step.
For example, Sumo has a simple popup that encourages users to talk to an expert. The easy-to-understand popup makes it easy for visitors to get in touch with staff members.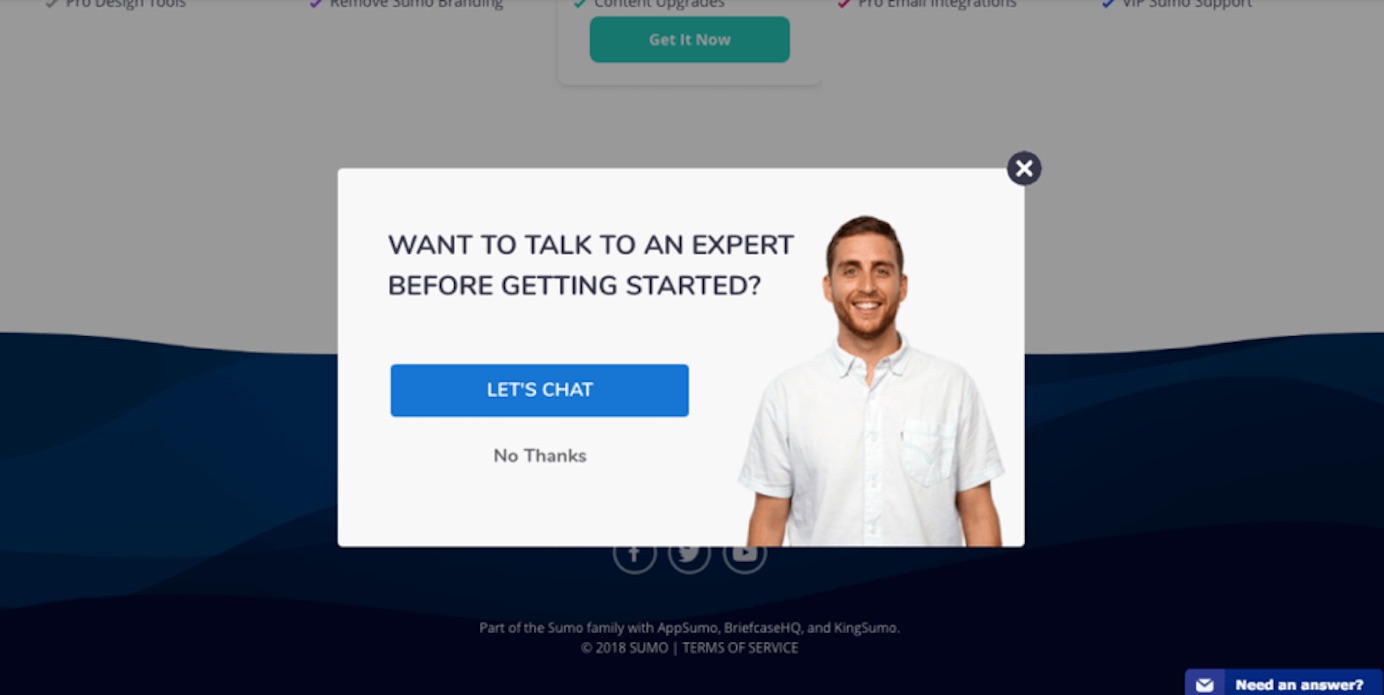 3. Refer-a-friend popup
Sometimes the cost of trying a new product may dissuade customers from making a purchase.
Now, what if you could invite your friend to try the product—and both of you get a discount? Wouldn't that be an amazing deal!
This is how a referral popup works. Basically, customers or brand advocates can refer a friend to use a product and service. If their friend makes a purchase, they can get discounts or freebies.
Unlike most traditional marketing tactics, referral marketing is perceived as trustworthy because we trust recommendations from our loved ones.
In fact, ReferralCandy found that word-of-mouth referrals are trusted by 86% of consumers, which makes it the most trusted marketing tactic. Plus, customers acquired through word-of-mouth spend 200% more than the average customer, and make as twice as many referrals.
For businesses, a referral pop-up means that you can snag two new customers, instead of just one. There's also minimal effort required to get new customers along the sales funnel. It's the ideal win-win-win scenario.
Here's an example of a refer-a-friend popup from Uber. Users can get free rides or $20 off just by spreading the word to their friends. This encourages users to onboard their friends to the platform in exchange for free services.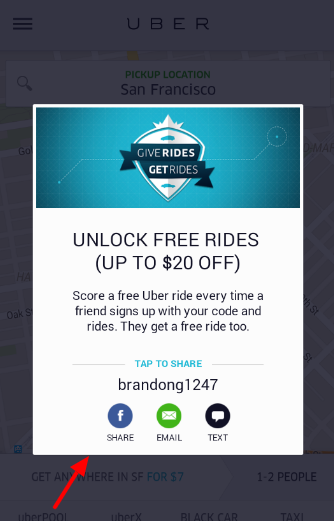 Like Uber, most referral programs utilize two-sided referral incentives. Meaning both customers and their friends will be rewarded for the successful referral. By incentivizing both parties, businesses make it easier for brand advocates to convince their friends.
4. Thank you popup
Once your customer successfully refers their friends to your business, don't forget to say thank you! Show your appreciation and express your gratitude. You can also use a pop-up to thank customers for the time and effort spent to successfully persuade friends and family to try a new brand or product.
For example, Glossier's popup thanks customers for their successful referral and gives them a $10 store credit. Plus, they encourage readers to share again by providing them with a referral link.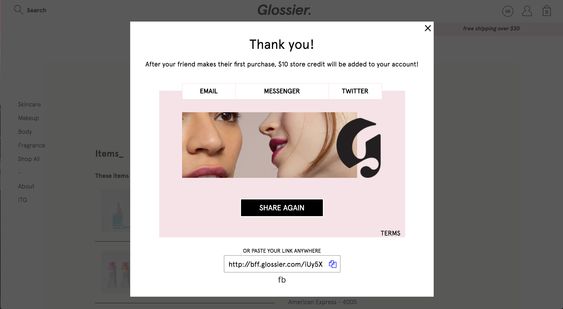 Glossier uses the popup as another opportunity to instantly make more referrals through email, Messenger, and Twitter.
This goes beyond e-commerce though. Tactics like this can be used by large and small businesses alike.
As Ron from One Hour Professor explains, "One of my best converting offers on my blog happens after someone has subscribed to my email list and I urge them to create an online course of their own. I was shocked at how effective this has been, my conversion here is nearly double of any other pop-up I have."
Conclusion
Popups provide you with a last-minute opportunity to connect with your website visitors. Exit-intent popups can lure people in through discounts, free shipping and downloadable content. In contrast, a chat or support page popup gives you an opportunity to get prospects through your sales funnel.
While exit-intent and support page popups are powerful, we highly recommend including referral popups in your marketing arsenal. This marketing tactic lets first-time users or loyal customers refer their friends so they can both snag the product at a discounted price. Hence, you get two or more new customers instead of just one.