Details

Published: Friday, 20 November 2020 05:16
Payment Gateways: How To Secure Ecommerce Transactions Safe
Online shopping is extremely comfortable for both retailers and customers. In the recent decade, e-Commerce has grown significantly and continues to develop. By the year 2021 online sales will reach $4.8T globally, which is an astonishing number. It is also expected the number of online buyers will be more than 2 billion worldwide.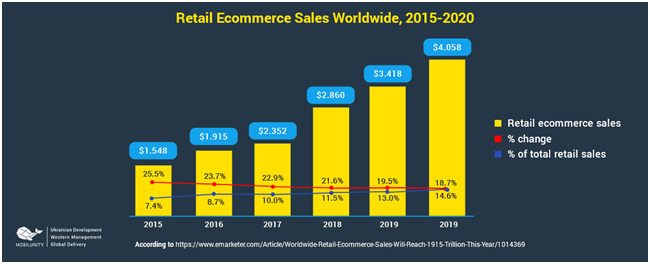 Many factors contribute to such significant statistics, but one of the main ones is the security of online transactions. Both clients and merchants want to be sure of the safety of their funds. And the request for that depends not only on the fact that the deal happens virtually, but because the cyber attacks are also a huge issue. That's why high-profile specialists like Ruby engineers are always in great demand.
According to a recent report, 75% of American online merchants have suffered at least one cybersecurity failure. It is not only a problem of data breaches but also an issue of trust from customers. The statistic shows that 17% of people abandon their shopping carts because they do not trust the site and 4% leave because of the lack of payment options.
That's why e-Commerce transactions have to be safe and use payment getaways. Usually, all digital financial operations the same steps:
Authorization – customer types in the payment data; it is transmitted to a merchant's bank, client's bank, and retailer. The main goal is to state that the payment is not fraudulent and the payer has enough funds on their account.
Clearance – the payment data (without CVV) is sent from a retailer to the credit card association or bank involved.
Settlement – the money is transferred from the bank or credit card to the retailer's account.
What is Payment Gateway
The next question you might ask is what a payment gateway is and how it helps to secure e-Commerce transactions. As Ruby engineers would say, it is a software service that ensures the connection between the retailer and the bank or other financial institution. It is a lot like a digital cash register, the safe third party in the deal.
There are several benefits of payment gateways both for clients and retailers, such as:
Security. It has an in-built encryption mechanism that makes sure that all the sensitive data is transmitted and stored properly. And a merchant wants to make sure that there are no data breaches as they are quite costly.
Flexibility. A retailer can route payments to different accounts. So there is no need to transfer everything at one bank, you can choose what payments are directed to separate accounts.
Give more payment options. The most popular gateway solutions offer several options, including major credit cards and banks, and different digital means (Apple Pay or PayPal). It is great for those who cater to a wider audience and want to make sure that everyone can choose the payment method they are comfortable with. For those who sell products internationally, it is a must.
Credibility. Any additional security measures make customers trust you more. And when there is mutual trust, people tend to come back. This is how a loyal audience is built.
It is not surprising that more e-Commerce companies are interested in more secure transactions and search for a Ruby developer as an in-house employee or a freelance Ruby developer. Of course, the choice of a particular technology and programming language depends on the specificity of the project, but Ruby is one of the most common ones.
Main Types of Payment Gateways
There are several major payment gateways providers, like Stripe, Square, PayPal, Amazon Pay, and others. A retailer can use them mainly in three main ways they interact with their website
Redirect. It is one of the easiest ways. In such a case a customer clicks on the "buy" button and is redirected to the payment gateway service page. For example, if you use PayPal, a client is redirected to the PayPal page where they put in all the information. After that, they are directed back to your website. The main downside of this option is that the retailer does not control all the steps. And for some customers, an additional step is taking too long. The less advanced users can be also scared off by it sometimes, but most people are quite aware of such methods.
Checkout Integration. In this case, a retailer has control over all steps. A buyer types in all the credit card information on their checkout page, then this data is transmitted to the payment gateway through API or other integration methods. For a customer it is not seen, everything happens on a backend. The purchase and authorization take place on your website.
On-site payments. Huge corporations and international businesses often choose to handle payments directly by their own servers. It is a valid method that helps to control all the data but adds a lot of responsibility. It also increases the development and support budget, including Ruby engineers salary.
The choice of the methods depends on the business, its budget, and goals. In any case, it is essential to care about security measures.
How to Secure Payment Gateway
The importance of security in case of transactions is obvious. It is a legal issue that helps to build trustful relations with customers, attract new ones, and make sure that the business will not be affected by any possible data breaches. There are several rules on how to add security to payment gateways, such as:
Choose a credible provider to integrate the solution into your company. If you have no in-house team of developers, consider hiring a freelance or offshore team that can help to power up your company. It is not a time to cut finances on security, search Ruby programmer cost, and evaluate what you can expect for your project's budget.
Choose a provider that has high-level in-built security measures. Whether it is PayPal or Amazon Pay, the choice depends not only on the country you are working in and the fees. The provider needs to have a good reputation, great security measures, and an amazing score of zero breaches on its side. Also, make sure that the provider is PCI compliant. Depending on the method of integration with a payment gateway service, you might also need to be compliant. Namely, in cases two and three. If you use the redirect method, all the legal responsibility is on the provider as you do not hold or transmit any sensitive information.
Use HTML protocol for your website.
Make sure data encryption is on the top. Or hire someone who can make sure of that.
Incorporate SSL and SET protocols into your e-Commerce website.
Conclusion
Payment gateways serve as digital cash registers and make sure the safety of customers and retailers. They use advanced encryption technology to act as a protection between an e-Commerce website and a bank or credit card association. They are beneficial for companies as they add more security and trust of customers. But they should be implemented and integrated by professionals to make sure that all the advanced measures are on.