With projected annual revenue of 2,411,638 million USD in 2020, the worldwide eCommerce market is going to explode. According to Statista, that's a growth of 25,6% in contrast to 2019.
However, many eCommerce business owners miss out on the opportunity to sell their products all over the world. They sell them on different channels like Amazon, Instagram or eBay - but they don't sell them globally.
Reasons are often expenses and problems with logistics and cross-border shipping, duties or taxes.
But offering your products all over the world is the absolute easiest way to grow your business fast.
If you want to know how to make your online store ready for international sales to make more money in the long run, you've come to the right place.
In this article, I'll show you what you can do to make your online store ready to expand into other countries.
Make sure your payment processes work
If you want to sell your products through your eCommerce store internationally, make sure to support every payment method. While Paypal, Visa, Master Card, etc. are standard payment methods in these times, add more methods to your online store like Apple Pay, Amazon Pay or bank transfer.
However, in terms of payment methods, you're limited by your eCommerce software. Fortunately, most software like Shopify or BigCommerce provide necessary payment methods to expand globally.
When you want to sell your products in other regions, make sure to check currency conversion fees and other fees of your payment providers. In some cases, currency conversion fees can eat up your whole profit.
Finally, here's an infographic showing the most popular payment methods of eCommerce shoppers in 2019. It is clearly visible that digital wallets are the most popular payment method.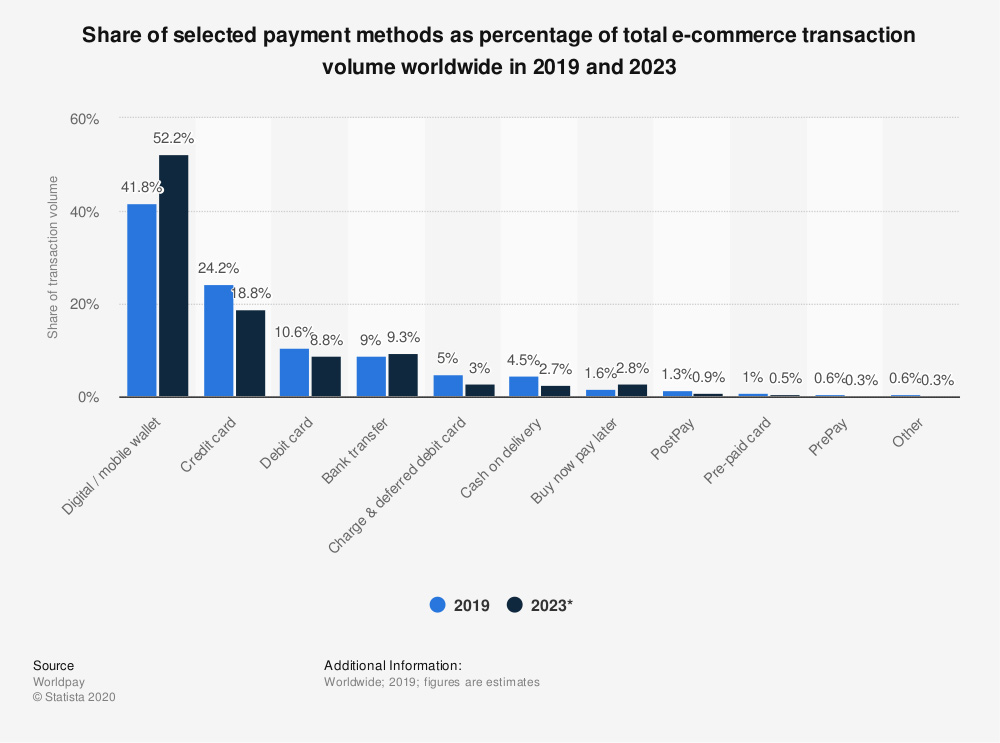 Translate your online store into different languages
In other countries, there are other languages. Accordingly, if you want to expand your online store into other countries, your best bet is to translate your entire site into the respective languages.
But you shouldn't only translate your online store into different languages - means category pages, detail pages and so on. You have to translate your entire blog into multiple languages to increase your organic search visibility.
Translating your blog posts into different languages is an easy way to double your search traffic in no time. Famous Online Marketer Neil Patel claims that he was able to increase his traffic by 47% through translating articles from English into other languages.
Just imagine what a 47% increase in traffic would mean for your online business - it would mean that you would make 47% more money.
Wouldn't that be awesome?
Open different stores in the regions you want to target
When you want to expand your online business around the world, there are always a few regions that are more important to you than others.
If you use software like Shopify, you're able to open a new online store in the countries you want to target.
This has two significant benefits:
Customers can shop in your online store and pay with their currency, which is much better for you and the customer - there are no currency conversion fees.
You can increase your worldwide search visibility on Google.
Whenever you want to make your online store ready for international sales, check whether it is worth opening a new business in the countries you want to target.
Identify new audiences
When you go international, you enter a much larger market with lots of diverse audiences.
You need to do audience research to find out how to reach your audience in different countries. Check if there are changes in behavior and interest that would improve your targeting.
If you run paid campaigns on Facebook, you need to identify new audiences and set them up within Facebook Ads Manager. Targeted campaigns lead to high click-through rates, which lead to a low cost per click. This will significantly increase the ROI of your Facebook Ads.
But audience research is not only relevant for Facebook Ads.
You should also do research regarding the translation of your blog posts. Some topics may not be relevant to other countries. In this case, it would be a waste of time to translate an article, because nobody will read it anyway.
If you are expanding, be aware of your target audience and get your marketing running.
Labeling requirements
Depending on which products you sell in which countries, you may need to make changes to your labeling.
Especially if you sell packaged consumer goods, you must pay close attention to the labelling requirements.
What you need to do is research all the essential labeling requirements of the region where you want to sell your products.
If you only need to make a minor change, you may want to change your entire labeling. If you need to make extensive changes, you can create a new label for that specific region.
Manage landed costs
Landed costs are the total amount of money needed to deliver a product from your company to a customer. They include shipping costs, duties, taxes and other fees.
It is really important that you know the landing cost for each region in which you sell your products.
If landed costs are too high in one region, it is not a good idea to offer your product there.
Imagine that your product costs $20, but your landed costs are $30. In this case, a customer will never buy your product and will look for another company where he can get a free delivery.
Most shipping providers offer tools to calculate your landed costs, so make sure that these costs are not too high. If you have a large order volume, you can also negotiate better shipping rates with your carrier.
Tell customers the correct delivery time
It is clear that the delivery time increases as the distance to the final destination increases. If you want to ship a product from California to Colorado, it takes much less time than if you want to ship it from California to Europe.
Everybody knows this - and for most customers, it's not a big thing. But you need to give your customers accurate information and let them know about the correct delivery times.
If you tell your customers that the delivery time is 2 days, but it's actually 10 days - they will be very dissatisfied.
Returns
Different countries have different regulations for handling returns.
If you want to go internationally you've to update your policies for each region to see how the refund process works.
In addition, there are different consumer behaviours that lead to different return rates in each country.
Here's a graphic showing different return rates of different European countries: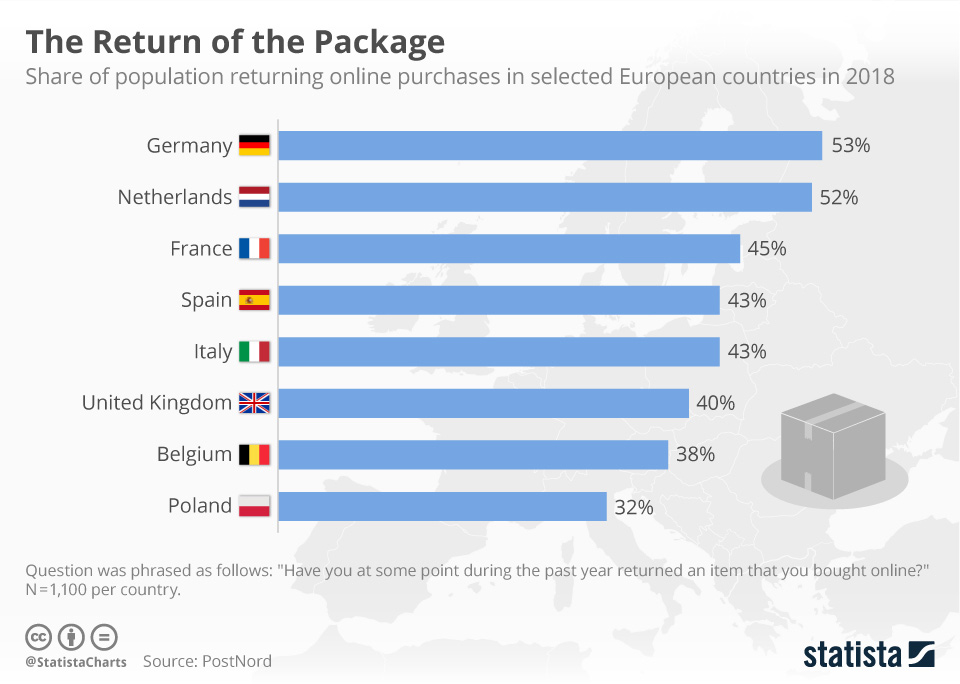 Use this knowledge to design your policies so that they work with your business.
Customer service
When you start selling internationally, you should deal with customer service for different time zones.
A customer in Germany is six hours ahead of the East Coast. So he only has the opportunity to call late in the evening after work, if you only offer customer service in the US.
If you want to sell your products internationally, you should provide customer service for different time zones.
You can use virtual assistants to solve this problem.
Conclusion
eCommerce is a great business opportunity. If you have a business and do not yet sell through an online store, you should start doing it. If you already have an online store, try to go international. Anyway, if you want to go international, then consider the things mentioned in this article
About the Author
Moritz Bauer is a digital marketing specialist. He writes about Fulfillment by Amazon on his own blog smartminded. When he's not in front of his laptop, he's out to have some nice food with his friends.