For each customer who has an account in your store, you have the option to configure a Customer Group. Customer Groups are a means to apply other features in AbanteCart to groups of customers all at once. AbanteCart shopping cart allows you to provide some of your customers with access to special features:
- different discounts;
- different specials;
note You can restrict access to these features using Promotions tab on the Products page, as explained in the corresponding chapters.
Customer Groups list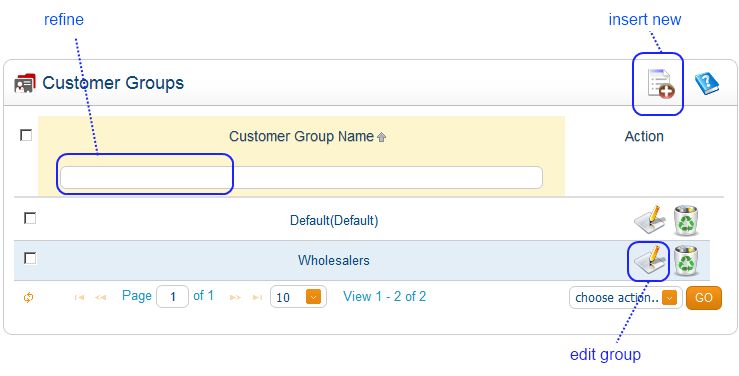 To add a new Customer Group click the INSERT
Customer Group Name: Enter a name of a new user group
After you have made your changes, select the SAVE
The 'Customers Group' page contains the 'refine' pattern which allows you to refine customers group by the following parameter:
To delete a customer group: - click on delete
To edit a customer group profile: - click on edit
Few bulk operations are also available for selected groups - delete/save selected
Now that you have set up all of your Customer Groups, you can assign them to customers by navigating to Sales >
Customers
. When customers first create an account, they will be assigned to the default customer group.
note: You can define the default customer group in the administration->System->Settings->
Checkout Tab
->Customer Group.