Details

Parent Category: Sales Menu
The AbanteCart shopping cart allows you to manage all customer profiles.
Customers list
You are able to set custom list of Customers with search and refine options. Important: search brings result and grid can use refine for that result. Grid itself does not search anything.
The 'Customers' page contains the 'refine' pattern which allows you to refine customers by the following parameters:
- Customer Name;
- E-Mail - customer's email;
Also you able to display customers by Customers Group, Status and Approve status of the customers account
To delete a customer account: - click on delete
To enable or disable a customer account: - change from Yes to No in Approved drop-down
To add a new customer account: - click on insert. Customers typically register themselves in your web store using the Login link in the header menu of each page. In addition, you can use the following option to add a customer using the admin panel.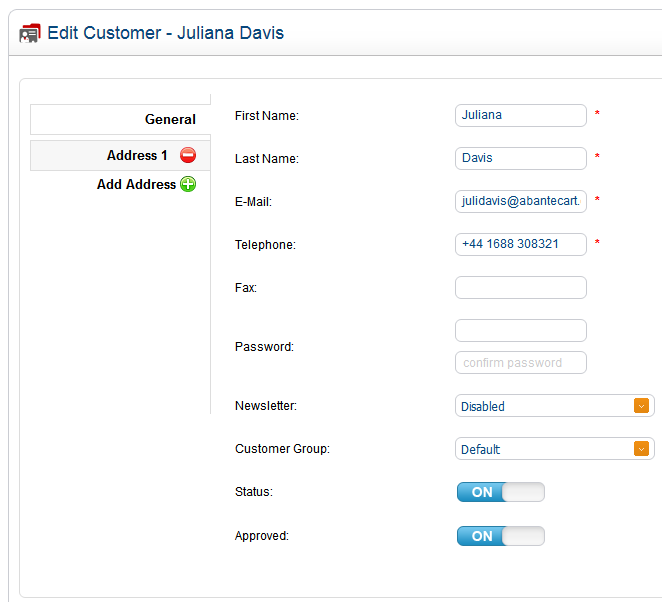 Page enables you to define basic identifying information about the customer and his/her various addresses. For each address you wish to create, click
Add Address
button. Also you can enable or disable customer's newsletter and assign customer to
Customer Group
to which the customer belongs determines which
discounts
are given to this customer. Fill out the customer's information and then click the Save button.
To edit a customer profile: - click on edit
Few bulk operations are also available for selected customers - delete/save selected
You can change the number of customers shown using pagination at the bottom.
You can change the type of customers to display using top navigation